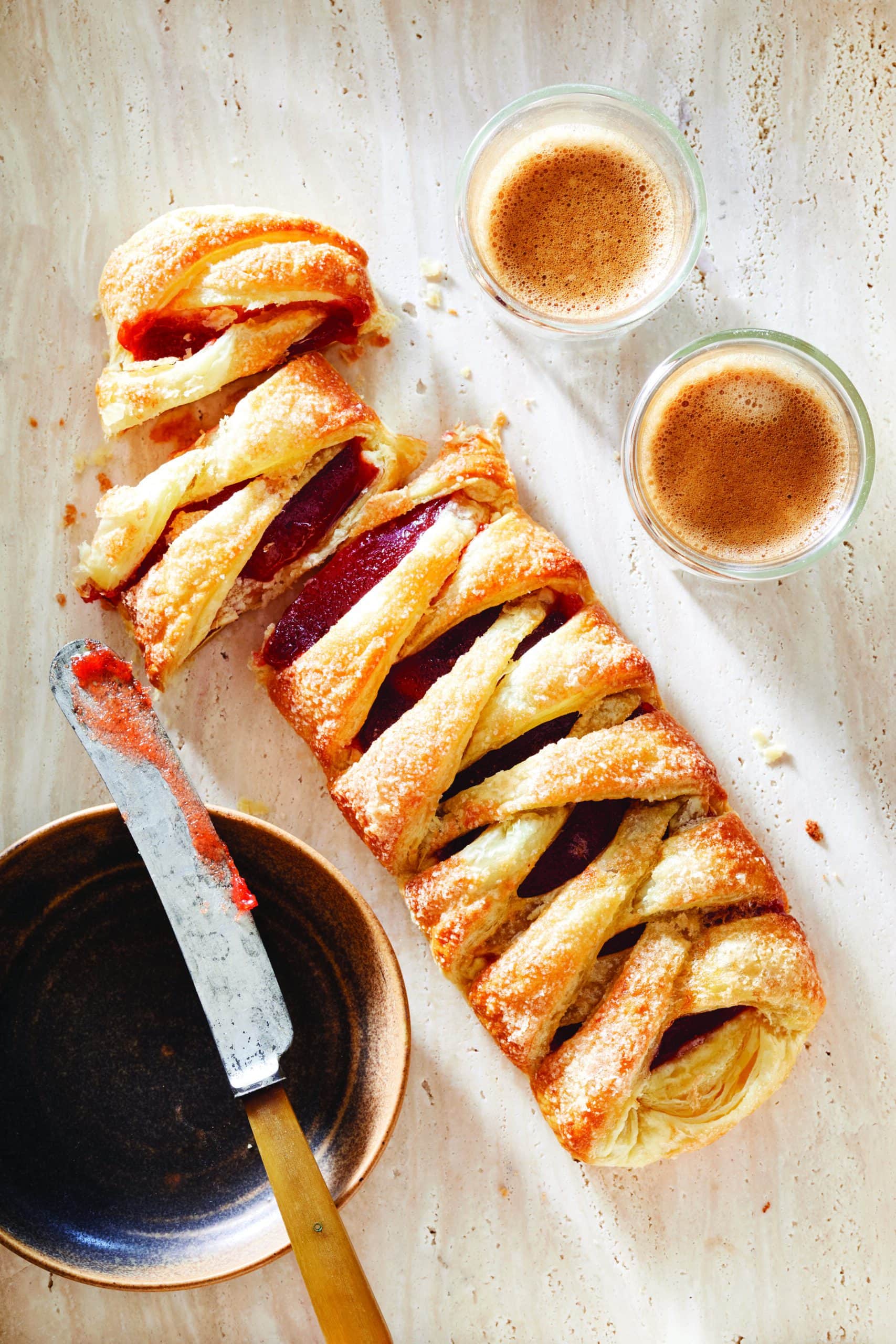 A store-bought sheet of puff pastry makes for a very easy yet impressive-looking dessert when filled, braided, and baked in a toaster oven–style air fryer! This one from The Instant Kitchen Cookbook has a sweetened cream cheese filling topped with a layer of guava paste. You get the buttery, flaky layers of puff pastry, and the soft and tangy cream cheese offsets the super-sweetness of the guava for a balanced bite. So good.
My friend Marta makes a treat called Pastelillos de Guayaba (a.k.a. guava turnovers), which were part of the inspiration for this recipe. Between seeing Marta's gorgeous pastelillos and remembering the delicious Romeu e Julieta I was served many times in Brazil, the idea for this delicious braid came together in my brain.
I'll have a slice of this for dessert alongside a cup of decaf, or as a late-morning treat if I can find a moment to myself! I almost always have some kind of treat around, whether it's muffins, a loaf of banana bread, or this gorgeous yet so, so easy puff pastry braid.
As a parent of very little kids who gets very little time to herself, I've found it's important to have treats to look forward to. Whether it's a yoga practice (I've been fitting in the Apple Fitness ones a few times a week), a walk around the block to get some fresh air, a chat with a friend, or just a moment to sit down with a coffee, a pastry, and my own thoughts, I try to schedule these things in so that I don't get lost in the grind! Highly recommend.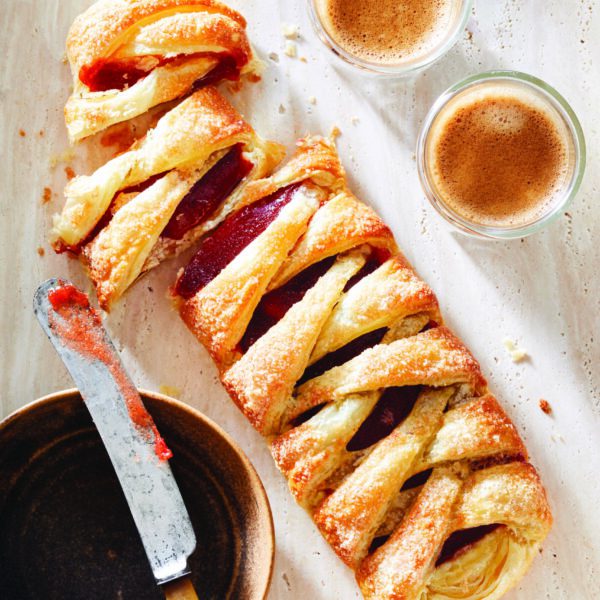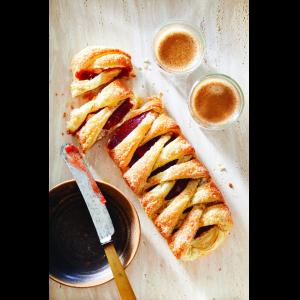 Puff Pastry Braid with Guava and Cream Cheese
A store-bought sheet of puff pastry makes for a very easy yet impressive-looking dessert when filled, braided, and baked in a toaster oven–style air fryer. This one is inspired by my friend Marta Rivera's pastelillos, with a sweetened cream cheese filling underneath the traditional guava paste. Slice and serve with coffee for dessert, or as Marta serves her pastelillos, as a morning or afternoon treat.
Printed with persmission from The Instant Kitchen Cookbook by Coco Morante
Print
Pin
Rate
Ingredients
4

ounces

cream cheese

at room temperature

2

tablespoons

+ 1 teaspoon granulated sugar

1

tablespoon

all-purpose flour

plus more for dusting

1

large

egg

separated

1/2

teaspoon

vanilla extract

1

pinch

kosher salt

1

frozen puff pastry sheet

thawed at room temperature for 40 minutes

6

slices guava paste

1/8-inch thik, about 4 ounces total
Instructions
In a bowl, stir together the cream cheese, 2 tablespoons of the sugar, flour, egg yolk, vanilla, and salt until evenly mixed.

Unfold the puff pastry on a lightly floured surface. Use a rolling pin to roll it out lengthwise, until it is about 11 inches long. Transfer the puff pastry to a sheet of parchment paper.

With a sharp paring knife, cut 1-inch diagonal strips, lengthwise, one-third of the way into the puff pastry on either side, leaving the middle third intact. (These dough strips will later be folded over the top of the filling in a braid.) You should end up trimming away triangle-shaped wedges at the bottom and top of the pastry.

Spread out the cream cheese mixture along the middle third of the pastry, leaving about 1 inch at the top and bottom of the pastry bare. Lay the strips of guava paste along the middle of the cream cheese.

Fold the top and bottom bare inches of the pastry over onto the cream cheese filling. Then, alternating sides, fold the diagonal strips over the top of the cream cheese and guava paste, to make a braid.

Preheat a toaster oven–style air fryer on BAKE at 375°F and set the cooking time for 14 minutes. Line the cooking pan with parchment or aluminum foil.

Use a pastry brush to brush the egg white over the pastry braid, then sprinkle the top with the remaining 1 teaspoon sugar. Transfer the pastry braid to the lined cooking pan.

Bake the braid in the preheated toaster oven–style air fryer.

When the cooking program ends, carefully transfer the braid to a cooling rack. Allow it to cool for at least 20 minutes before serving. Transfer to a serving dish, cut into slices, and serve warm or at room temperature.
Notes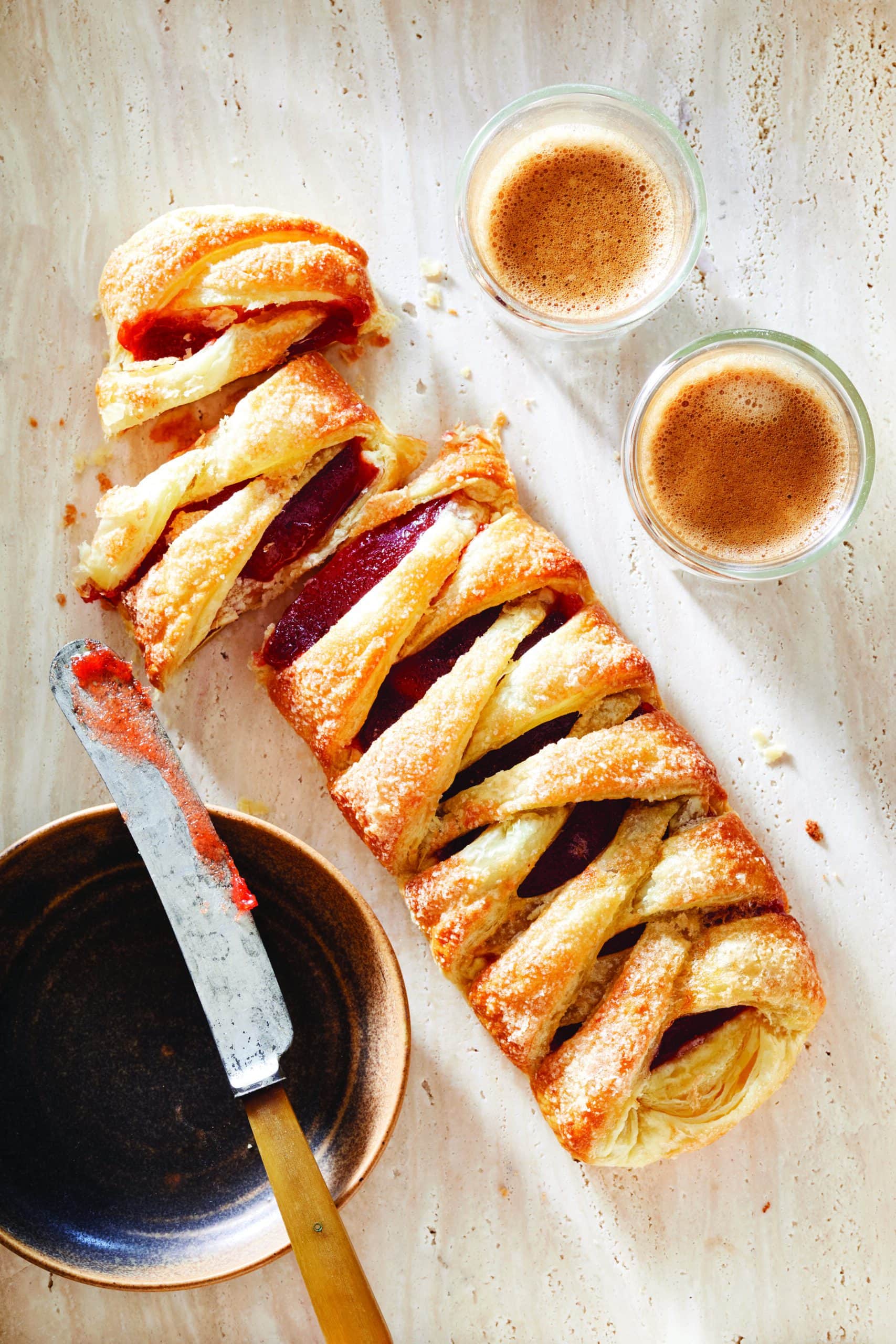 Guava paste (pasta de guayaba) is available in most Hispanic grocery stores and online. Iberia brand, which comes in an easily sliceable block, is my favorite one to use. You can substitute quince paste (membrillo) for the guava paste, if you like.