In this easy recipe I'm sharing with you today, juicy shrimp are coated with panko breadcrumbs and air fried to a golden brown crisp. Sounds delicious right? They're one of my favorite appetizers to make now that I have fallen hook, line, and sinker for my Instant Omni Plus Air Fryer Toaster Oven. I have used both the 18L and 26L Omni Plus models, and they are both excellent appliances. Read my previous post for my thoughts on the newer 18L model.
I have never been one to deep fry — there's the mess, the lingering scent of fry oil, and the problem of disposing with all of that leftover oil once you're done. Not to mention how fried foods make me feel after I eat them. Air frying, however, is a whole other proposition. It's easy to get the hang of, once you understand how the timing works out — everything cooks much faster than it would in a conventional oven. And with a few little tricks, you can get results that are just as delicious as deep frying, with none of the drawbacks.
I'm actually working on a cookbook of air fryer oven recipes, due out this coming fall. That's right, your resident Instant Pot expert is now an air fryer oven expert too! I actually use both my Instant Pot and my Instant Omni Plus most days. They work together to help me get meals on the table quickly and conveniently, and they both have their strengths. For instance, I'll often prepare some crispy tofu or nicely browned meatballs in the air fryer oven, while rice or quinoa steams in the pressure cooker. A bag of frozen veggies gets heated up in the microwave, and that's dinner.
These popcorn shrimp aren't going to be in my cookbook, though you will find more shrimp recipes there, too. I came up with this recipe out of necessity — I wanted to use some smallish, peeled and deveined shrimp that I ordered from Imperfect Foods.* They're called "broken shrimp," and they cost much less than most shrimp, although there were really just a few "broken" pieces — most of them were perfectly whole, as you can see in the photos here. I have ordered them twice, and will for sure get them again. The ones I purchased fell squarely into the "medium" size category (41-50 shrimp per pound), though that wasn't specified on the packaging.
To ensure that shrimp stay juicy when cooked, my favorite trick to employ is a quick brine. This is nothing complicated or time consuming like brining your Thanksgiving turkey! Simply stir ice cold water and salt together in a bowl until the salt dissolves, then add your shrimp and let them soak for half an hour. While your shrimp are brining, you can use that time to get your breading station ready and prepare any other parts of the meal.
I hope you enjoy these! The recipe will work well in a basket-style air fryer too, but you may need to make it in two or more batches depending on the surface area of the basket in your appliance.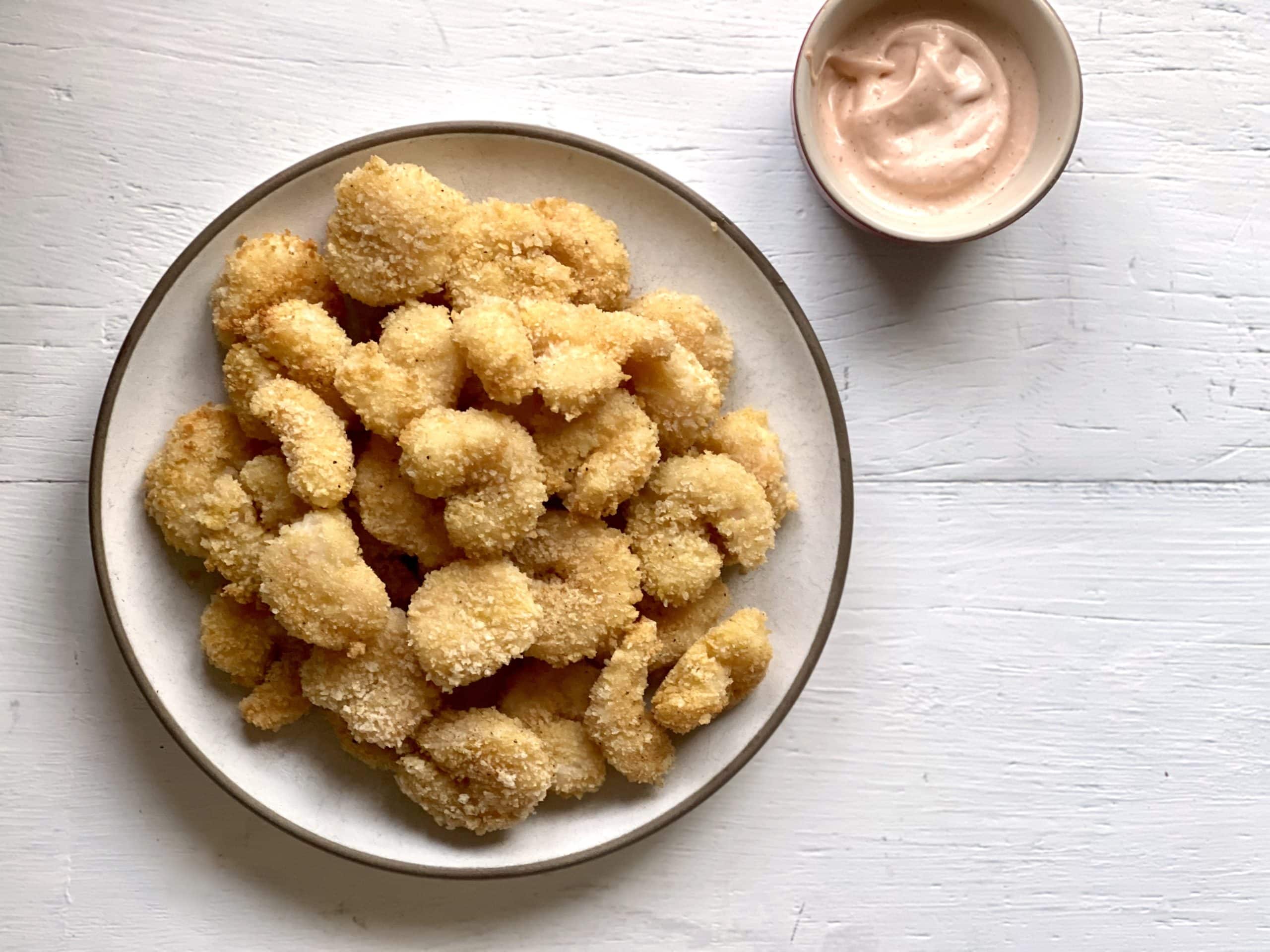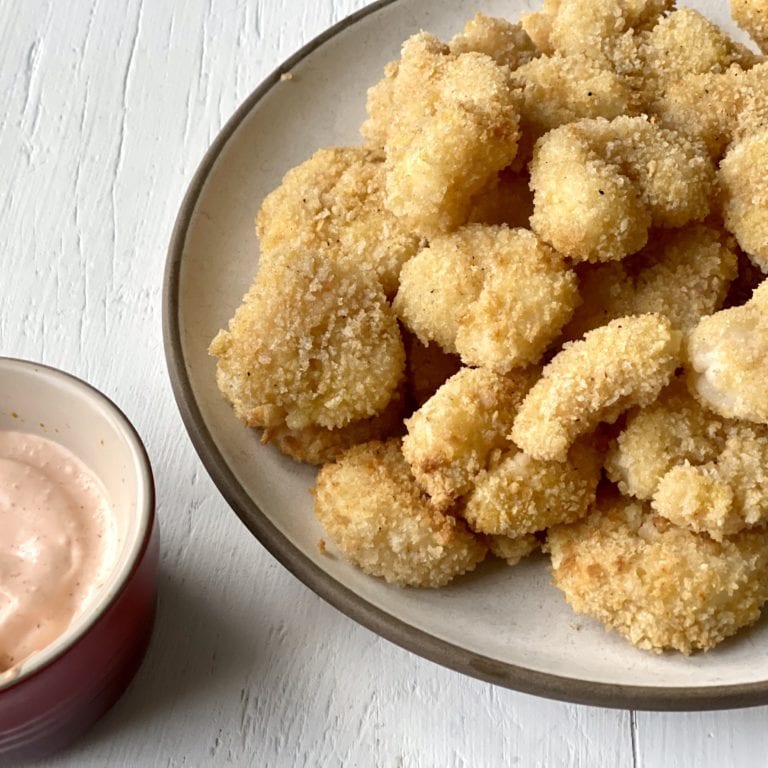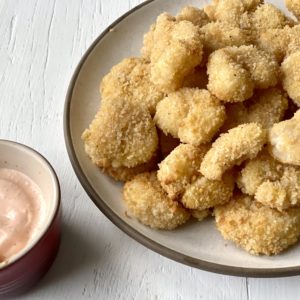 Air Fryer Popcorn Shrimp
Tender, juicy shrimp with a crispy panko coating.
Print
Pin
Rate
Ingredients
3

cups

ice water

2

teaspoons

kosher salt

12

ounces

peeled and deveined shrimp

medium size

1/4

cup

all purpose flour

1

large

egg

1

tablespoon

water

1

cup

panko breadcrumbs

1

teaspoon

seasoned salt

Lawry's brand

1/4

teaspoon

ground black pepper

avocado oil

for spraying

2

tablespoons

mayonnaise

2

teaspoons

sriracha sauce
Instructions
Brine the shrimp.
In a mixing bowl, stir together the ice water and salt, until the salt dissolves. Add the shrimp and leave to soak for 30 minutes.
Bread and fry the shrimp.
Line the air fryer oven basket with parchment paper.

Drain the shrimp in a colander, then pat them dry with paper towels.

Create a breading station with one mixing bowl and two shallow bowls. Add the flour to the mixing bowl. In the first shallow bowl, whisk together the egg and tablespoon of water. In the other shallow bowl, stir together the breadcrumbs and seasoned salt.

Add all of the shrimp to the bowl with the flour and toss to coat them evenly. Next, drop a shrimp into the egg mixture, turning to coat evenly, then holding it over the bowl for a second or two to let any excess egg drip back into the bowl. Next, place the shrimp in the bread crumbs and gently toss, making sure to coat all sides evenly. Transfer the breaded shrimp to the air fryer basket. Repeat with the remaining shrimp.

Preheat the air fryer oven on its AIR FRY setting at 400ºF for 6 minutes.

Spray the breaded shrimp lightly with avocado oil, then air fry them in the preheated oven. When the "turn food" notice comes on (or after 4 minutes of cooking), flip the shrimp onto their second sides and spray them with oil once more.
Make the dipping sauce and serve the shrimp.
While the shrimp are cooking, make a quick dipping sauce: In a small bowl, stir together the mayo and sriracha sauce until evenly combined

When the cooking program ends, transfer the shrimp to a serving dish. Serve warm, with the dipping sauce on the side.
Nutrition
Calories:
259
kcal
|
Carbohydrates:
17
g
|
Protein:
22
g
|
Fat:
11
g
|
Saturated Fat:
2
g
|
Trans Fat:
1
g
|
Cholesterol:
264
mg
|
Sodium:
2639
mg
|
Potassium:
129
mg
|
Fiber:
1
g
|
Sugar:
1
g
|
Vitamin A:
76
IU
|
Vitamin C:
5
mg
|
Calcium:
167
mg
|
Iron:
3
mg
*This post is not sponsored by Imperfect Foods. However, if you do end up clicking through and signing up with my link, I make a small referral bonus in the form of a grocery credit to my account. All opinions are my own.