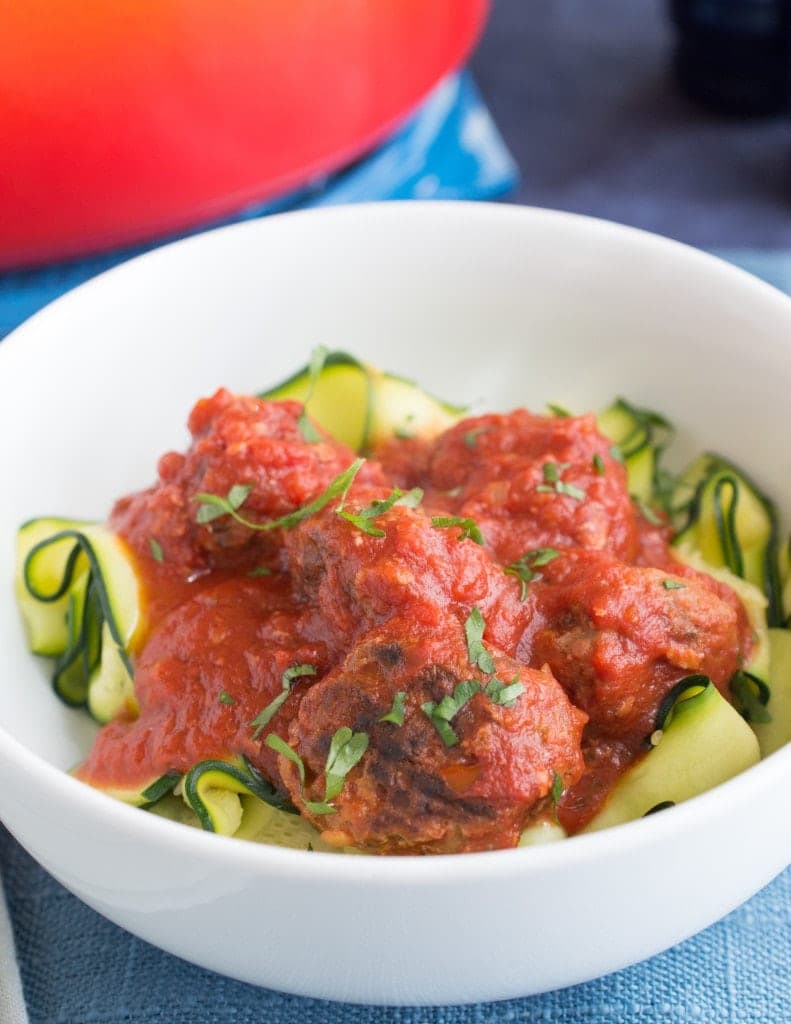 I've told you a bit about my eating habits, and let you know that while I am not a strict adherent to any one diet, I do try to keep things high in vegetables, lower in grains, and made with mostly whole food, unprocessed ingredients. 
There are a couple exceptions to those rules in this recipe, but I still feel good about serving it up for dinner. For one thing, I've blitzed a sourdough roll (made from white flour) into breadcrumbs, and for another, the Worcestershire sauce I used contains cane sugar and wheat.
Here's the thing: I like to use what's around and avoid being wasteful whenever possible. Sometimes, what's around is a bag of sourdough rolls my husband bought, and they're quickly going stale. Sure, I could have been strict about making this a grain-free, paleo-friendly recipe, and used almond or coconut flour as a binding agent. If you're so inclined, I invite you to do so.
For me, this made sense for using what was around. Nobody has any food intolerances around here, so we can eat a few bites of bread in our meatballs without compromising our well being. With the zucchini noodles underneath the meatballs, plenty of onions and mushrooms cooked into the meatballs themselves, and a generous ladle of marinara sauce, this is a veggie-packed meal I'm happy to enjoy on a regular basis.
One thing I never include in meatballs is the traditional Parmesan cheese, because Brendan can't stand cheese. Except when it's sweetened in desserts, or in mozzarella on pizza (he calls it "pizza cheese," a category all its own). If you live in a house of people who enjoy cheese, by all means add some here. But don't tell me about it because I'll be totally envious. Man, the things we do for love.
As you may have also guessed, he eats a lot more grains than I do. He'll enjoy these meatballs on top of a bowl of pasta, while I prefer them on zucchini noodles for a meal that sits lighter on my tummy. I slice my zucchini super-thin with the help of this mandoline slicer, a workhorse in my kitchen. Once I've sliced my zucchini (about two medium ones per person is a good portion), I salt them and leave them to become seasoned and pliable while I prepare the rest of the meal.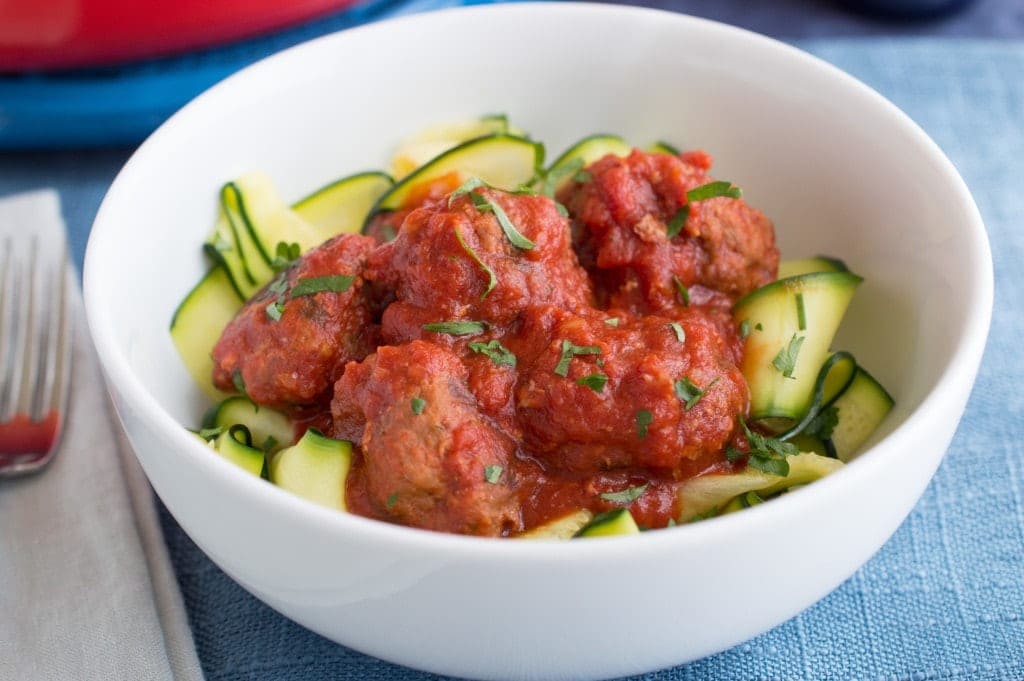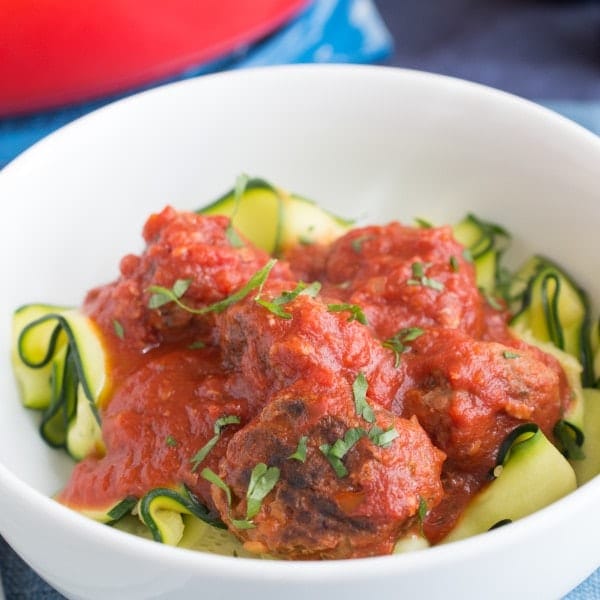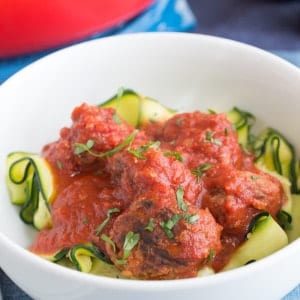 Meatballs and Zucchini Pappardelle
Meatballs made with grass-fed beef, simmered in marinara sauce and served on a bed of zucchini noodles. A nutritious, filling, and tasty dinner.
Print
Pin
Rate
Ingredients
For the zucchini noodles
1 1/2

pounds

zucchini

sliced into thin ribbons with a mandoline or spiralizer

1

teaspoon

sea salt
For the meatballs
2

tablespoons

olive oil

1/2

pound

crimini mushrooms

chopped

1

medium red onion

diced

1/4

teaspon salt

1

pound

grass-fed 85% lean ground beef

1

sourdough sandwich roll

sliced into cubes and processed into bread crumbs, or 3/4 cup dried breadcrumbs

1/4

cup

chopped parsley

1

tablespoon

chopped oregano

1

large egg

1/3

cup

water

2

tablespoons

Worcestershire sauce
Instructions
In a medium mixing bowl, toss the zucchini ribbons with the salt until evenly mixed. Set aside.

Heat the olive oil in a large (12-inch) skillet over medium heat. Add the mushrooms, onion, and salt, and sauté until the mushrooms have given up their liquid and the onions are beginning to brown, about 15 minutes. Set aside and allow to cool.

When the mushroom mixture has cooled, transfer it to a large mixing bowl. Add the rest of the meatball ingredients and stir to combine evenly.

Preheat the oven to 400ºF and line a baking sheet with parchment paper or aluminum foil.

Use a medium cookie scoop to portion the meatball mixture into even balls and place them on the cookie sheet. Bake for 30 minutes, until cooked through and beginning to brown.

Pour the marinara sauce into a medium (3 1/2-quart) heavy-bottomed pot or dutch oven, and place over medium heat.

Add the cooked meatballs to the sauce, bring up to a simmer, and turn down to low. Let simmer for 30 minutes.

While the meatballs are simmering in the sauce, put the salted zucchini into a colander or large strainer, and rinse it well with fresh water. Allow to drain thoroughly.

Place the zucchini "noodles" in individual bowls, and ladle the hot meatballs and sauce over the top of each portion.
Notes
To make this recipe paleo-friendly and gluten-free, substitute almond meal for the bread crumbs, and omit the Worcestershire sauce.