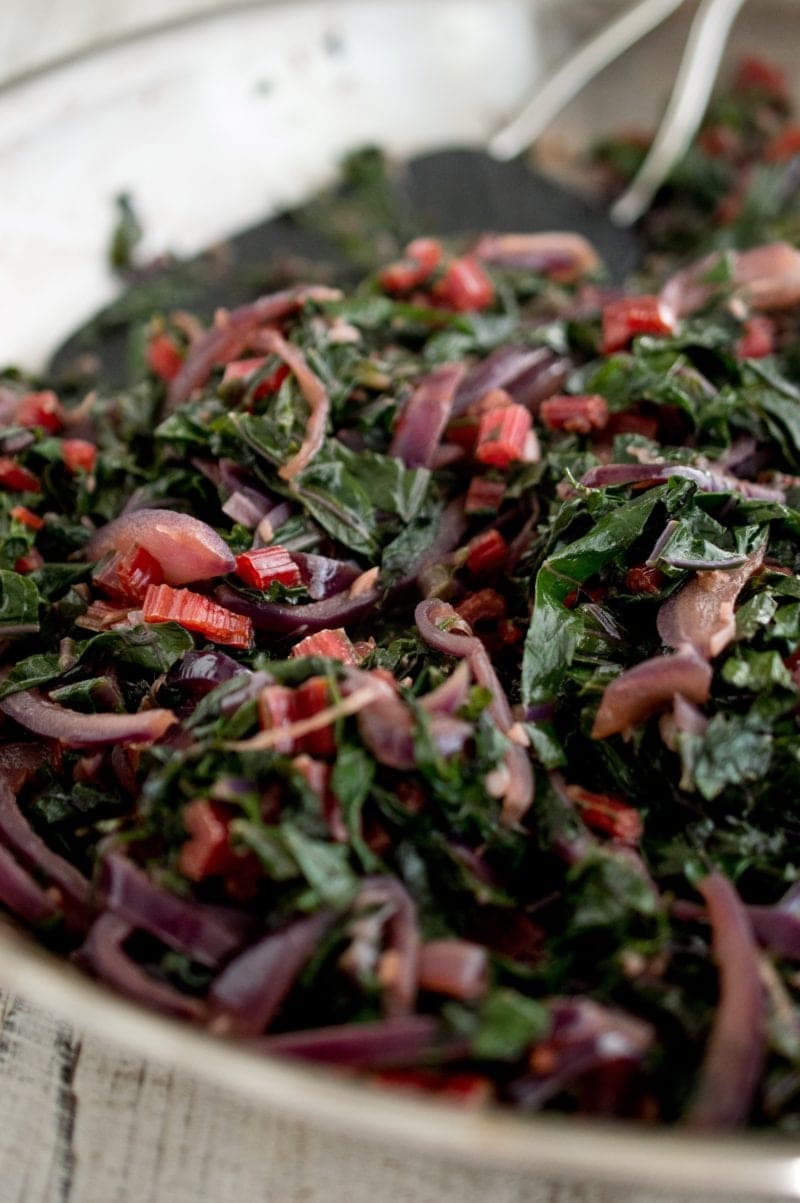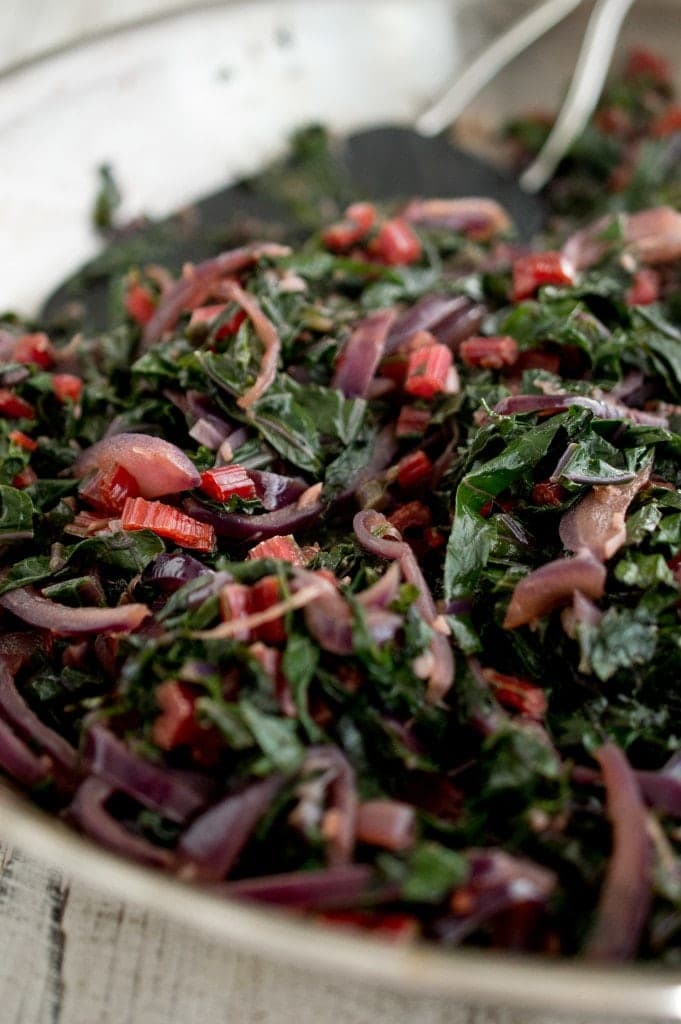 How is everybody? I hope you all had a good weekend, relaxing or energizing or whatever you wanted it to be. Around here, things were pretty low-key. On Saturday, Brendan and I saw a screening of this fascinating film, and on Sunday, I went up to the city for my usual church singing gig (always a treat when you get to sing pieces like this for the communion anthem), then had a nice, beer-sipping afternoon in the park with my brother and his friends.
After a couple days of indulgent food choices, I feel like it's time to hit the reset button. Hopefully, this week's CSA box will include a nice, big bunch of greens so I can make this dish again soon!
I've always been interested in nutrition, but I wouldn't deign to tell you what diet will work perfectly for you. These things are so personal, and there's no way any one-size-fits-all approach is going to make everybody happy, especially when you account for allergies, autoimmune conditions, and food preferences. Furthermore, pronouncements from on high about what's healthy are, well, just plain annoying.
All I know for sure is what works for me, and that's a diet composed mostly of whole foods including plenty of produce, with minimal grains (whole or otherwise) and little to no added sugars.  I go through phases when I let things go, reaching for dried fruits more often than usual, adding a scoop of rice to my dinner plate, then eating a cookie here and there.
Pretty soon, though, I realize that the extra sugar and starch are making me feel really crummy. My blood sugar dips in the afternoons, I feel sluggish, my desire to keep up an exercise routine mysteriously disappears . . . and then it's time to get back on the wagon again.
Here's one side dish that, without fail, makes me feel good inside and out. A big bunch of dark, leafy greens, sautéed in a moderate amount of oil, with plenty of garlic and onions to add sweetness and flavor. I so prefer this kind of dish to a bowl of plain, steamed greens, which feels like a punishment to eat. Giving greens a quick sauté takes a little more time, but it's worth it when you end up with something that tastes so good.
When I came up with this recipe, I happened to have a couple bunches of greens in the fridge — Red Russian Kale and Red Chard. Kale stems are pretty fibrous and unpleasant to eat, but chard stems become sweet and tender when you slice them thinly enough to eliminate their stringy texture. About 1/4-inch thick is just right. Of course, you can use a bunch of chard, stems and all, rather than mixing and matching your leaves and stems. If you're going with just kale, though, I'd advise leaving out those stems and sending them to the compost pile.
I usually eat my greens alongside some protein (salmon, chicken, tofu, whatever sounds good that day), and maybe a baked sweet potato or plantains for a more filling meal. This plate full of whole, simply-cooked foods keeps me happy and healthy, and makes a great lunch or dinner any time of the year.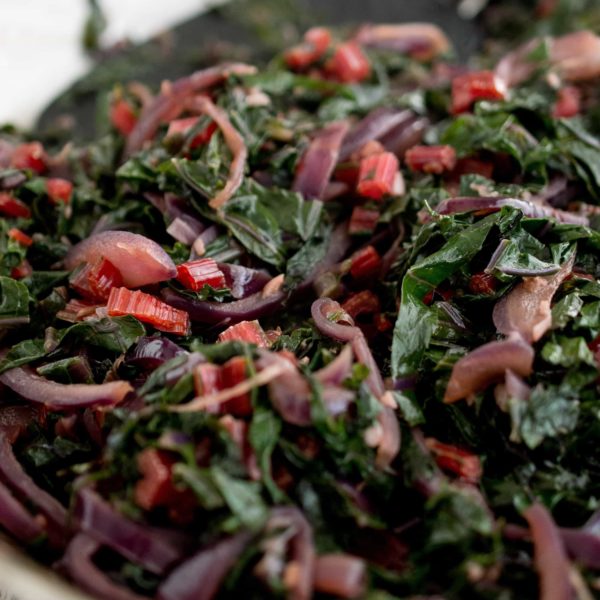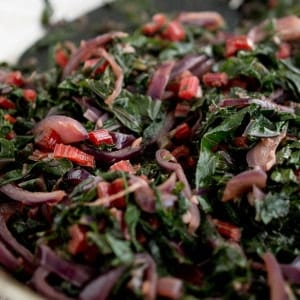 Ingredients
1 1/2

tablespoons

coconut oil

4

cloves

garlic. chopped

1

large red onion

halved and sliced into thin strips

1

bunch's worth of chard stems

chopped into small pieces

1/2

teaspoon

kosher salt

1

bunch red russian kale

destemmed and cut into thin strips
Instructions
In a large (12-inch) skillet, heat the olive oil over medium-high heat. Add the garlic and sauté until fragrant and just beginning to take on a bit of color, about two minutes.

Add the onions, chard stems, and salt to the skillet, stir, then cover for five minutes.

Remove the lid from the skillet and sauté until the onions are just beginning to caramelize, about 10 more minutes.

Add the kale to the skillet and cover. After five minutes, remove the lid, stir everything together, and cook, covered, for another five minutes.
Notes
Feel free to substitute any greens you have on hand. Spinach will cook much more quickly, while collards will take a bit longer.