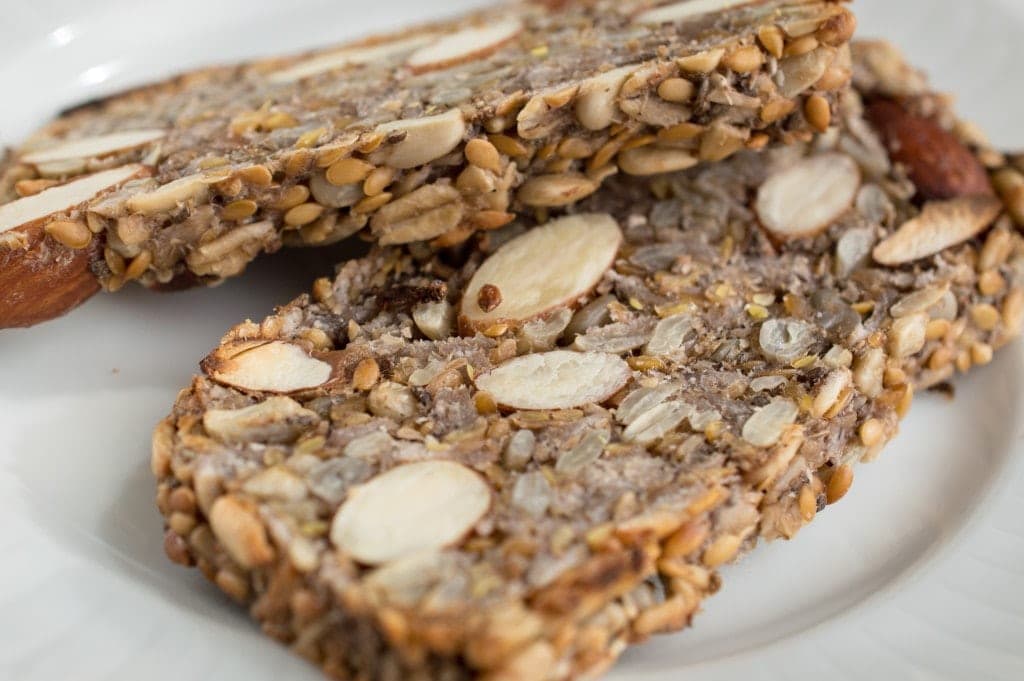 I love a handful of nuts and seeds as much as the next person, which is to say, it's a pretty boring snack option that I will reach for in a pinch. Bind them up into a toasty, dense loaf of bread, though, and that's a more exciting prospect.
Sarah Britton published her recipe for The Life-Changing Loaf of Bread in Winter 2013, and since then, it's taken on a life of its own. The editors at Food52 have shared their love for this wonderful, nutritious loaf, and Josey Baker has adapted it into his own creation, Adventure Bread, included in his beautiful and charming cookbook. You can see his riff on David Lebovitz's blog here.
A variation on Scandinavian rugbrød, it more closely resembles a doorstop than any other bread I've made. Due to its extreme density, it's best served sliced quite thinly, about 1/3 to 1/2-inch thick. My medium-sized loaf pan yielded twenty slices.
To make this recipe, you'll need to acquire a few whole food ingredients you may not already have in your baking arsenal. I recommend shopping in the bulk aisle at your nearest natural foods store — this way you can snap up just the quantities you need of each ingredient, and the loaf isn't a super-expensive project. It cost me about $4.50 to purchase the necessary seeds, nuts, oats, and psyllium husks. More expensive than a loaf of white bread, to be sure, but the nutritional bang for your buck is impressive.
In Josey's version, he recommends mixing everything up in a bowl, while Sarah simply combines all of the ingredients in the loaf pan in which they're going to be baked. Their baking methods also differ — he bakes the loaf in its pan, while she flips hers out onto the oven rack for the final two thirds of baking time.
I ended up going with a hybrid method. Since I don't have a flexible silicone baking pan like Sarah recommends, I knew it would be a difficult prospect to unmold the loaf from my unlined pan. I mixed the ingredients in a bowl, then transferred the dough to my pan, which I'd lined with a sling of parchment paper. This way, when it came time to flip the loaf out of the pan, it was as easy as lifting the loaf in its little paper hammock, then tipping it over gently.
I also forewent the dangerous-sounding prospect of tipping the loaf straight onto the oven rack for its second phase of baking. I've gotten enough oven burns in my lifetime to know that this would just be asking for trouble. Instead, I lined a sheet pan with a cooling rack, and flipped the half-baked loaf out onto it, outside of the oven. This made it safer to remove from the oven after cooking as well, sheet pan and all, and there was no need to transfer it to a cooling rack.
Oh, and as for Sarah's instruction to "mix [the dough] very well" and Josey's similar imploration to "mush up your dough 'real good,'" I found this step wasn't necessary. A quick stir was all that was needed. My loaf rested in the fridge for about 24 hours before I baked it, giving everything plenty of time to soak and meld together. The nuts and seeds had plenty of time to soften, while the psyllium and chia did their job of binding the dry ingredients together. The loaf sliced easily, without any crumbling.
Has my life truly been changed by this brick of bread? I've had a slice for breakfast two days running, and it's darn tasty and very filling. Also,  I never knew bread could be made this way, with no kneading, minimal mixing, no added leavening agents . . . cool stuff! While the good people of Denmark may not be surprised by this kind of bread, it's a pretty revolutionary discovery in my kitchen.  I am happy this bread is in my life, and I look forward to subbing in different seeds, nuts, and whole rolled grains with this new-to-me method.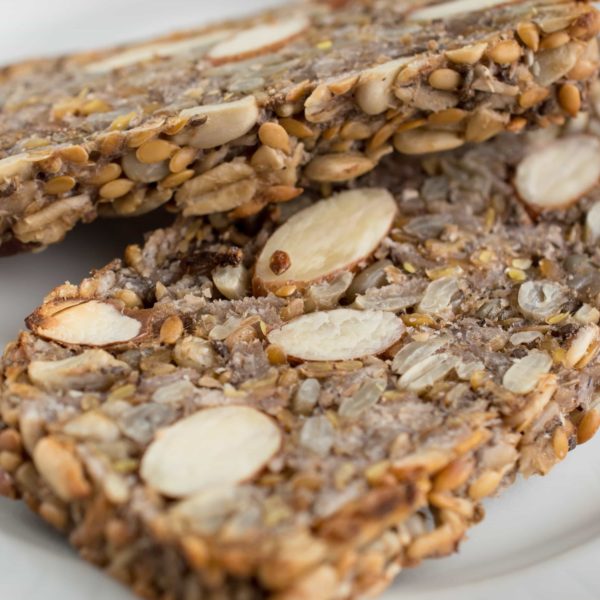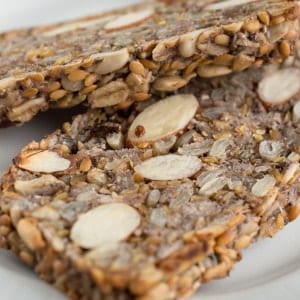 Sarah Britton's Life-Changing Loaf of Bread
Dense as you might expect a loaf of whole grains, nuts, and seeds to be. It's delicious toasted, served without adornment or topped with a shmear of butter, jam, or cheese. This is my adaptation of Sarah's fantastic recipe.
Print
Pin
Rate
Ingredients
Dry ingredients
1 1/2

cups

145 grams old-fashioned rolled oats

1

cup

135 grams raw sunflower seed kernels

1/2

cup

90 grams golden flax seeds

1/2

cup

65 grams raw almonds

4

tablespoons

psyllium seed husks

2

tablespoons

black chia seeds

1

teaspoon

fine sea salt
Wet ingredients
1 1/2

cups

350 ml warm water

1

tablespoon

grade b maple syrup

3

tablespoons

ghee or coconut oil

I used ghee

2

teaspoons

water
Instructions
Line a loaf pan with parchment paper, letting the paper hang over the long sides of the pan by an inch or two. Set aside.

In a medium mixing bowl, combine the dry ingredients and stir until evenly mixed.

Add the wet ingredients to the mixing bowl and stir until the water is absorbed.

Transfer the dough to the lined loaf pan, patting it into a flat loaf. Sprinkle the two teaspoons of water evenly over the loaf, to prevent it drying out while it rests in the fridge.

Wrap the pan with saran wrap and leave in the fridge at least overnight, or up to 24 hours.

Two hours before you plan to bake the bread, remove the loaf from the fridge so it can come up to room temperature.

Preheat the oven to 350ºF, making sure the rack is positioned in the middle of the oven so the loaf will cook evenly.

Bake the loaf for 20 minutes, then remove it from the oven.

Use the parchment paper as a sling to carefully lift the loaf out of the pan. Place a cooling rack on a baking sheet, then tip the loaf onto the cooling rack and discard the parchment paper.

Return the loaf to the oven and bake for another 40 minutes, or until it sounds hollow when tapped.

Let the bread cool for at least two hours, or up to overnight.

Use a bread knife to cut the loaf into thin (1/3 to 1/2-inch) slices, then store the sliced loaf in an air-tight container in the fridge for up to five days, or in the freezer for up to two months. Toast individual slices as needed.
Nutrition
Calories:
200
kcal
|
Carbohydrates:
16
g
|
Protein:
6
g
|
Fat:
14
g
|
Saturated Fat:
3
g
|
Trans Fat:
1
g
|
Cholesterol:
10
mg
|
Sodium:
199
mg
|
Potassium:
191
mg
|
Fiber:
7
g
|
Sugar:
2
g
|
Vitamin A:
2
IU
|
Vitamin C:
1
mg
|
Calcium:
67
mg
|
Iron:
2
mg
link
link