Well I'm almost done with two rounds of this program. This Friday will be Day 30 of my Whole30! It was a lot easier to get into a groove this time around, since I started off knowing how to put together satisfying, balanced meals in line with the meal template.
You know what, though? They should really call this thing a Whole42. That's because, right after you're finished with the diet, the creators recommend spending the next week and a half on a reintroduction plan. Their sample schedule has you introducing some legumes on day one, non-gluten grains on day four, dairy on day seven, and gluten-containing grains on day ten. And after each reintroduction, you need to spend two days going back to a Whole30-compliant diet to evaluate how the reintroduced foods are affecting you.
The last time I completed a Whole30, I did not do a planned reintroduction phase. In fact, I basically did the opposite — Day 30 was the first day of our [belated] honeymoon to Ireland and Iceland. You can bet I was getting my fill of full Irish breakfasts, boxty pancakes, buttery mashed potatoes, Icelandic skyr and ice cream, and plenty of pints of craft beer. Those were ten glorious days of travel and indulgence, and I wouldn't take back a single minute.
This time around, I'm going to do things a little bit differently. I've got a good two weeks to devote to a reintroduction phase before we head down to Southern California for the holidays, so I'll definitely be taking advantage of that time to test out different foods methodically. Oh, and I'll be doing five introductions rather than four — first up on the docket will be a nice pour of beer after dinner. It's been *so hard* watching my husband enjoy his after dinner pint every night, and I cannot wait to have one of my own. Well, a half-pint, more likely. We drink some pretty boozy beers around here, so that'll be more than enough to savor.
In the meantime, though, I've got three more days to go. So until I get to curl up with an Agave Maria, I'll be continuing to make healthy, vegetable-filled choices for every meal. Lately, I've been looking to Dave Asprey's Bulletproof: The Cookbook for inspiration a lot lately, and the two recipes I've tried so far have been fantastic. My favorite is the salad pictured at the top of this post: Greens with Creamy Dressing (p. 71). It's a mix of arugula and chopped romaine lettuce, tossed in a simple, lemony dressing with chopped green onions for extra kick.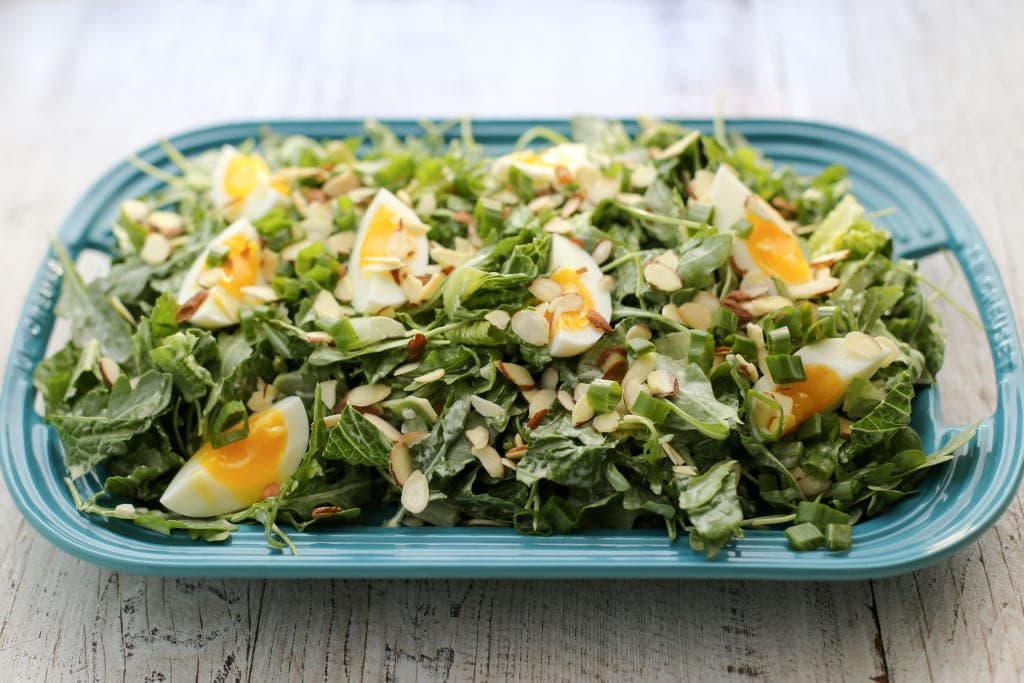 The recipe is written with the addition of hard-boiled eggs, but in the headnotes, Asprey suggests you could go with soft-boiled ones instead. I absolutely adore a good soft-boiled egg, so that was a no-brainer. Simmered for seven minutes, eggs have a molten, golden yolk that just barely retains its shape when sliced — it's a luxurious, almost syrupy texture you'll come to crave if you haven't tried it yet! I sliced each egg into quarters and arranged them on top of the salad, along with the optional handful of sliced almonds and some more green onions for good measure.
Buy The Book: Bulletproof: The Cookbook: Lose Up to a Pound a Day, Increase Your Energy, and End Food Cravings for Good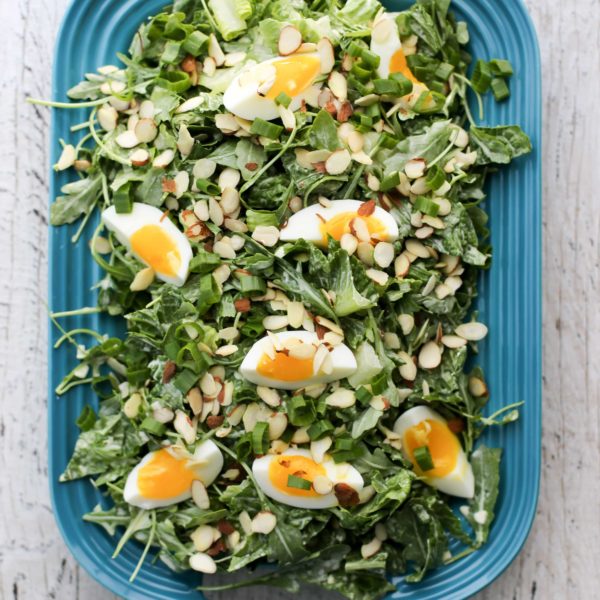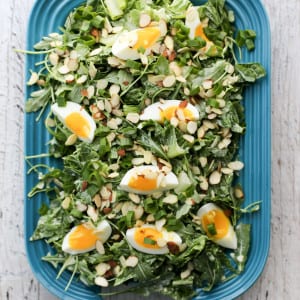 Bulletproof: The Cookbook: Greens with Creamy Dressing
Arugula and romaine in a creamy, lemony dressing, topped with soft-boiled eggs and sliced almonds. Makes a great light lunch or salad course.
Print
Pin
Rate
Ingredients
2

large eggs

2

tablespoons

mayonnaise

1

green onion

chopped

2

tablespoons

fresh-squeezed lemon juice

2

tablespoons

extra virgin olive oil

1/4

teaspoon

salt

1

head romaine lettuce

coarsely chopped

2

cups

baby arugula

1/4

cup

raw sliced almonds
Instructions
In a small pot of water, boil the eggs. Cook for 7 minutes for a soft-boiled texture. Remove to an ice water bath and set aside.

In a small mixing bowl, whisk the mayonnaise with the green onion, lemon juice, olive oil, and salt until evenly mixed and creamy.

In a large salad bowl, toss the lettuces with the dressing. Transfer the salad to a large platter or individual serving plates. Sprinkle on the sliced almonds over the top of the salad.

Peel the soft-boiled eggs and quarter them lengthwise, then arrange them on top of the salad and serve right away.
Bulletproof: The Cookbook was sent to me for review. All opinions are my own.