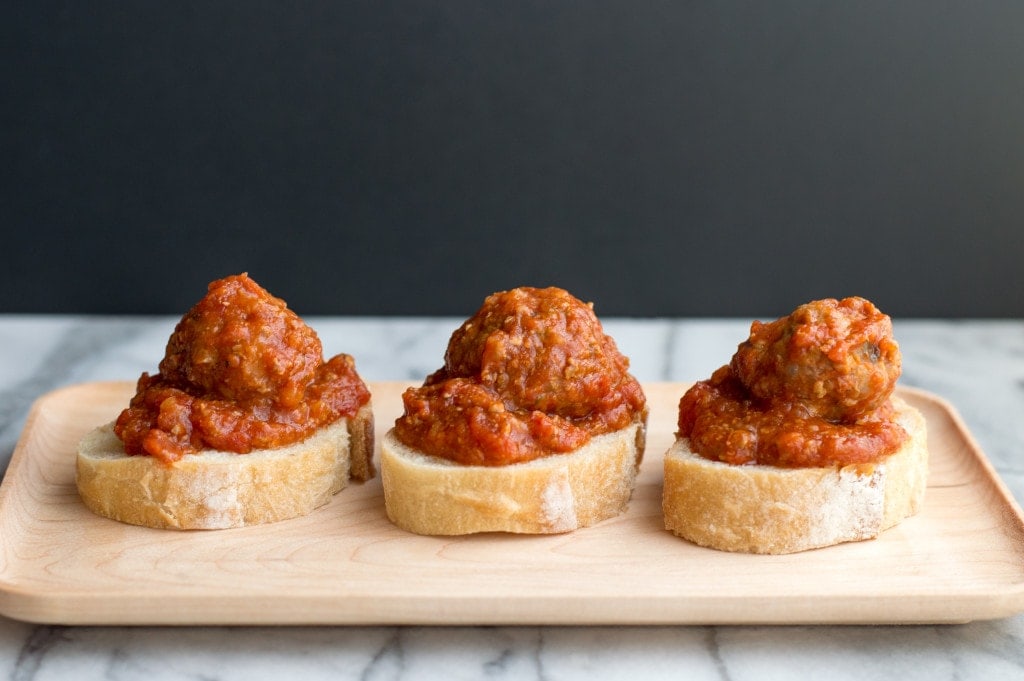 This month, our friends returned from a trip to Europe, where after 6+ years of being together, they finally got engaged! In honor of the occasion, they decided to throw a pintxo party.
Maggie and Nick fell in love with pintxos during their time in Northern Spain. These bar snacks are usually one or two-bite affairs, served on slices of bread and skewered with toothpicks for easy eating. When you're ready to mosey from one tavern to another, your toothpicks are counted to calculate your tab.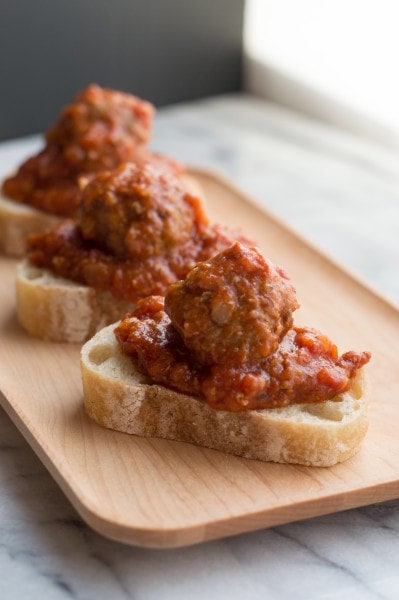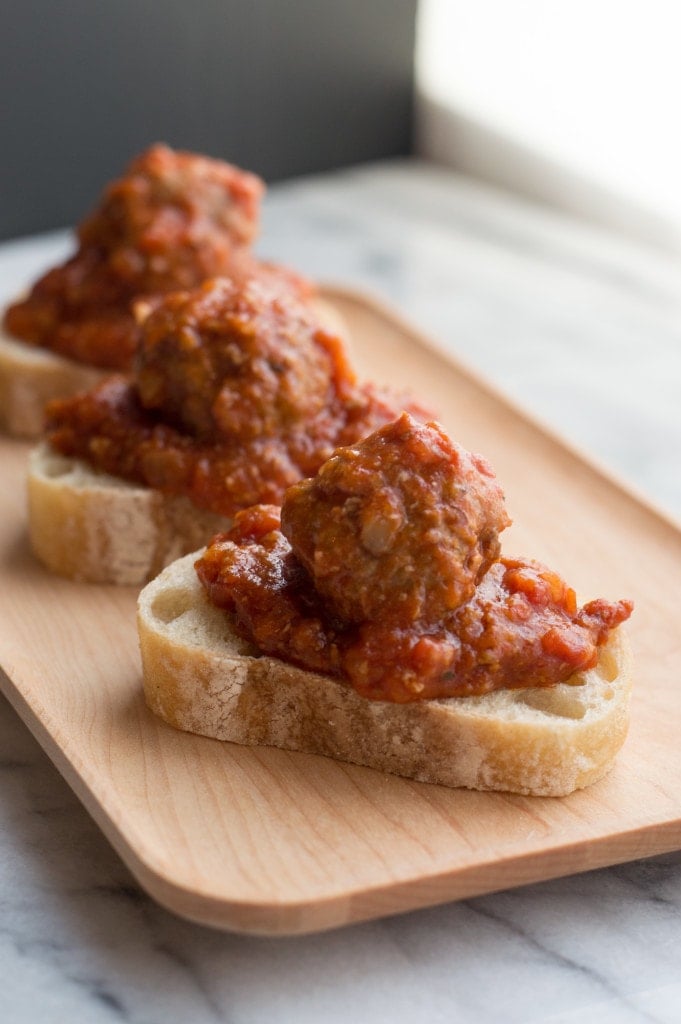 While tourists will often order multiple pintxos at one bar, locals tend to bar hop after just one snack. The drink pours are small as well to encourage this kind of grazing, moveable feast — it's common to order a quarter-pint of beer (called a zurito) or a small glass of wine, or txikito.
For Maggie and Nick's celebration, I chose to bring a crock pot full of albóndigas, a.k.a. meatballs. Easily plated on sliced baguettes, they made for a great pintxo selection. I hope you'll pardon the lack of toothpick skewers in the photo here, since I seem to have left my box at the party!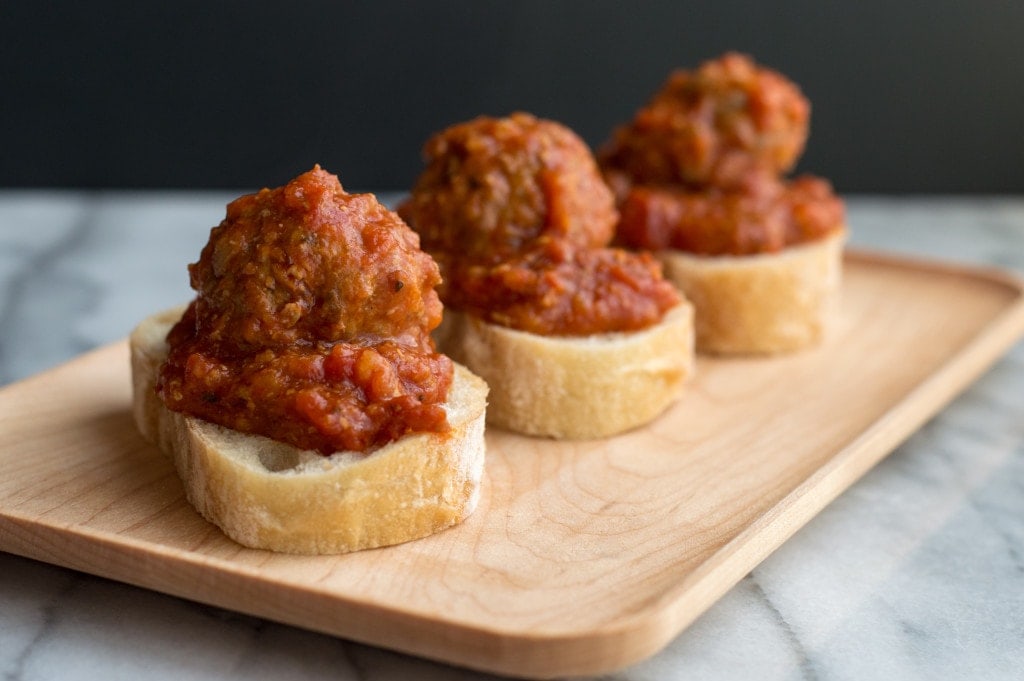 In the sauce, I've used a product sent to me for review, Wild Veggie carrot purée. Organic carrots are cooked and blended into a thick, rich purée, perfect for adding body and sweetness to the tomato sauce. You can also substitute a cup of mashed, cooked carrots — just steam carrot coins until fork-tender, then use a fork or potato masher to mash into a paste.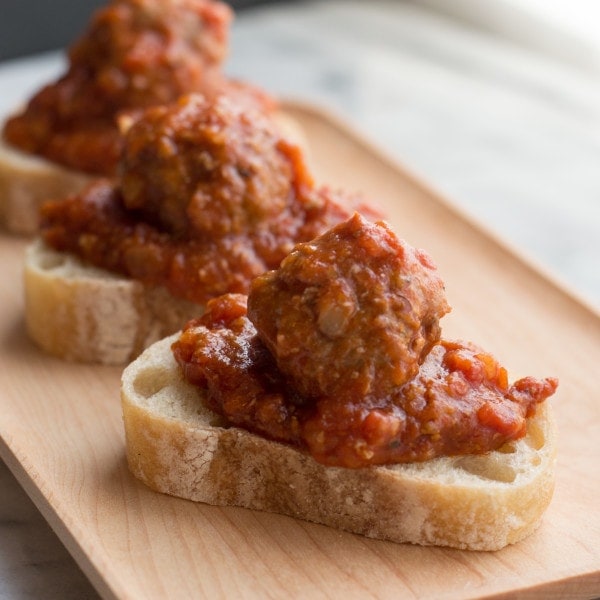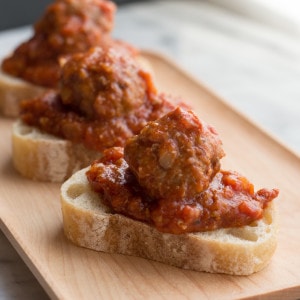 Slow Cooker Meatballs in Tomato Sauce
Meatballs are simmered in the slow cooker in a thick, rich tomato sauce.
Print
Pin
Rate
Ingredients
2

pounds

90% lean ground beef

2

cups

300 grams cooked long-grain white rice

2

large eggs

1

teaspoon

sea salt

1

teaspoon

dried oregano

1/2

teaspoon

dried thyme

3 1/2

cups

28 ounces marinara sauce

1

cup

puréed

cooked carrots

1

cup

dry white wine

2

tablespoons

paprika

1

teaspoon

chili pepper flakes

To serve:

2

loaves of artisan bread

Italian or large baguette, in 1/2-inch slices
Instructions
Preheat the oven to 375ºF and line a baking sheet with parchment paper.

In a large mixing bowl, combine the ground beef, cooked rice, eggs, salt, oregano, and thyme. Use your [impeccably clean] hands to mix until the ingredients are thoroughly combined.

Roll out the meatball mixture into golf ball-sized balls and place on the cookie sheet. Bake for 30 minutes, until cooked through and just beginning to brown.

While the meatballs are baking, turn a 4 or 5-quart slow cooker on to its high setting. In the slow cooker, stir together the marinara sauce, carrot purée, wine, paprika, and chili flakes and cover.

Remove the meatballs from the oven and gently drop them into the sauce in the slow cooker. Turn down to low setting and let cook for 4 hours, until the meatballs are very tender but not falling apart. Turn down to keep warm setting if holding before serving.

To serve, spoon a heaping tablespoon of sauce onto each slice of baguette, then top with a meatball and skewer with a toothpick, if desired.