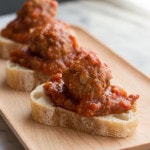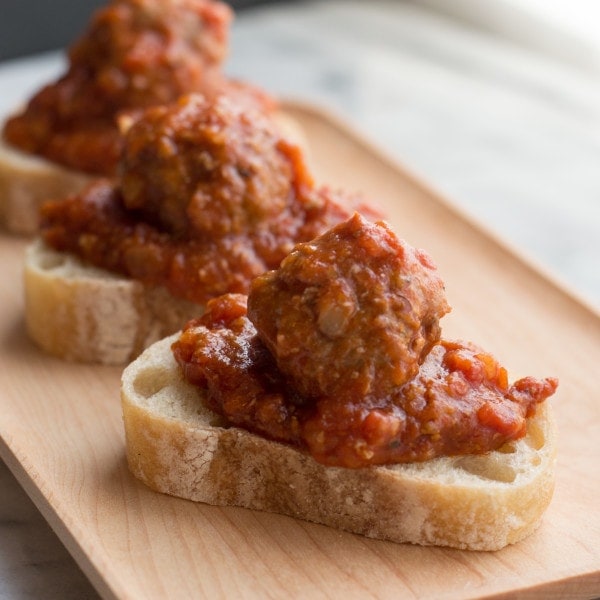 Print Recipe
Slow Cooker Meatballs in Tomato Sauce
Meatballs are simmered in the slow cooker in a thick, rich tomato sauce.
2

pounds

90% lean ground beef

2

cups

300 grams cooked long-grain white rice

2

large eggs

1

teaspoon

sea salt

1

teaspoon

dried oregano

1/2

teaspoon

dried thyme

3 1/2

cups

28 ounces marinara sauce

1

cup

puréed

cooked carrots

1

cup

dry white wine

2

tablespoons

paprika

1

teaspoon

chili pepper flakes

To serve:

2

loaves of artisan bread

Italian or large baguette, in 1/2-inch slices
Preheat the oven to 375ºF and line a baking sheet with parchment paper.

In a large mixing bowl, combine the ground beef, cooked rice, eggs, salt, oregano, and thyme. Use your [impeccably clean] hands to mix until the ingredients are thoroughly combined.

Roll out the meatball mixture into golf ball-sized balls and place on the cookie sheet. Bake for 30 minutes, until cooked through and just beginning to brown.

While the meatballs are baking, turn a 4 or 5-quart slow cooker on to its high setting. In the slow cooker, stir together the marinara sauce, carrot purée, wine, paprika, and chili flakes and cover.

Remove the meatballs from the oven and gently drop them into the sauce in the slow cooker. Turn down to low setting and let cook for 4 hours, until the meatballs are very tender but not falling apart. Turn down to keep warm setting if holding before serving.

To serve, spoon a heaping tablespoon of sauce onto each slice of baguette, then top with a meatball and skewer with a toothpick, if desired.