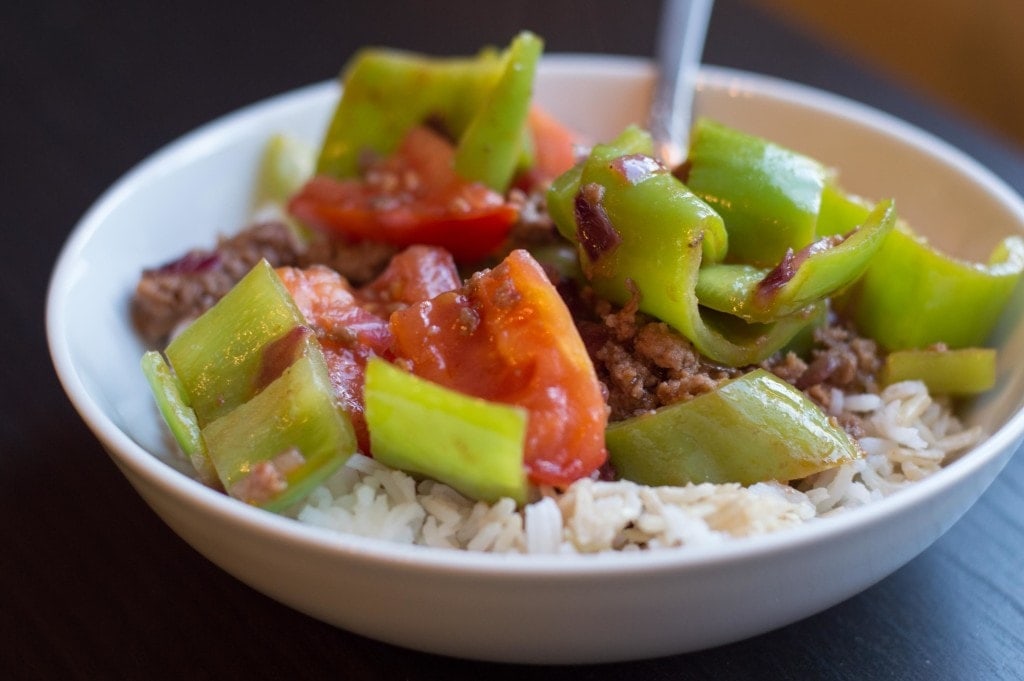 Hamburger Helper for millionaires. Sweet and sour sauce with sophistocation. A way to use your crop of summer peppers and tomatoes. This dish has it all, and takes about 20 minutes from start to finish. In the time your rice has steamed to perfection, you'll have made a great dinner to enjoy on top of it! 
This past weekend, I spent a morning cooking through some of the recipes in Simple Thai Food. Spoiler alert: everything was delicious, and it was the best lunch I've made in a while. Restaurant-quality Thai dishes came out of my kitchen!
After a morning of testing out Leela's amazing recipes, I was tired. Really tired. The whole "Simple" thing is a bit misleading — the recipes may not take any advanced techniques, but they are time consuming and far from simplified! After a few hours of banging around in the kitchen and using every dish I own (and then cleaning it all up again), I sure wasn't up for cooking anything very involved for dinner.
Enter stir-fry. It's so, so easy to make, and requires so little clean-up! It takes just one pan, one utensil, one little bowl. For nights when you want a.) dinner on the table fast and b.) minimal mess to deal with afterwards, stir-fry is where it's at.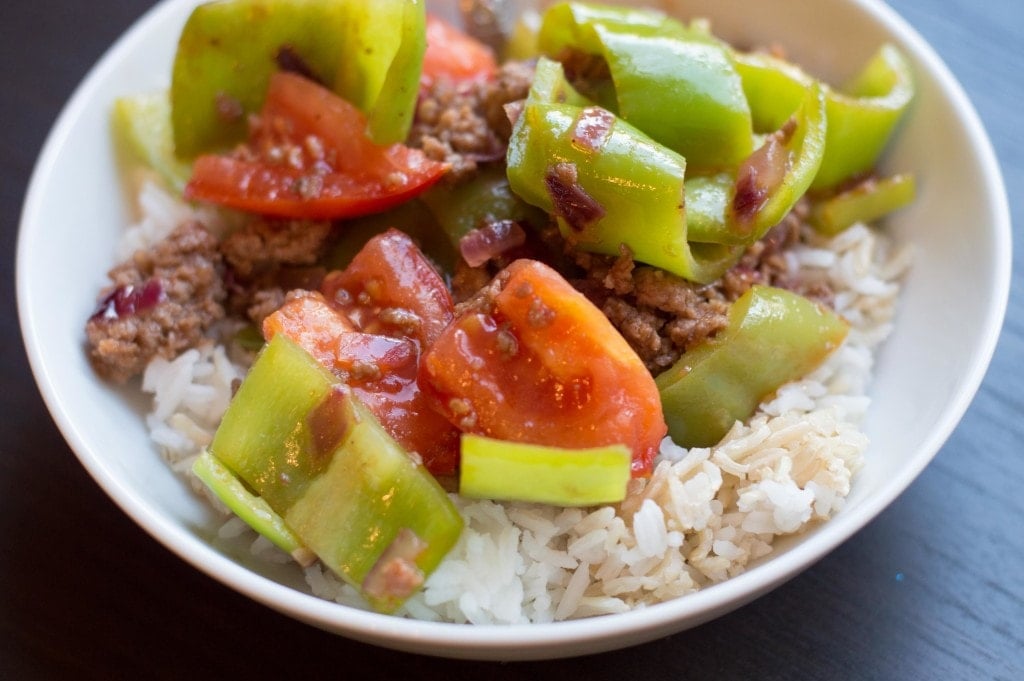 Don't let the big hunks of chile pepper in this dish scare you off. They're Anaheim peppers, a crunchy and mild cousin of the spicier green chiles from New Mexico. They contain just a hint of heat if any (it varries from pepper to pepper), so feel free to eat them by the forkful.
The sweet and sour sauce I've come up with here is Thai inspired, with a little bit of hey-that's-what-I-had-in-my-fridge. It's a little lighter and a lot less gloppy than your usual Chinese restaurant fare, since there's no cornstarch or other thickener added. Fish sauce and soy sauce add savor and salt, balancing well with sour lime juice and the sweetness of ketchup, which echoes the fresh tomatoes in the dish.
Oh, and don't despair if you don't have a wok — neither do I! I still manage to make stir-fries all the time, thanks to a nice, large stainless steel skillet we received as a wedding gift a few months ago. It's seared, braised, scrambled and stir-fried its way into my heart, and has become my go-to pan for so many dishes. There's no need to worry about browned bits that develop on the pan as you're stir-frying. Once you've poured in the sauce at the end of cooking, you can nudge all of that goodness off the bottom of the pan as you're stirring everything together.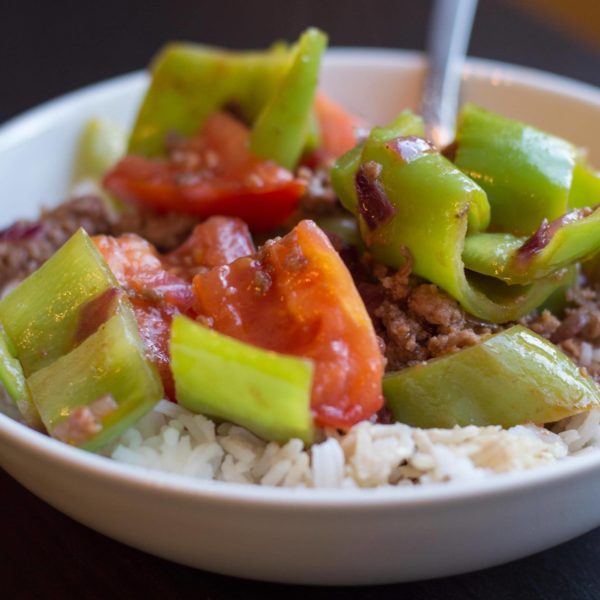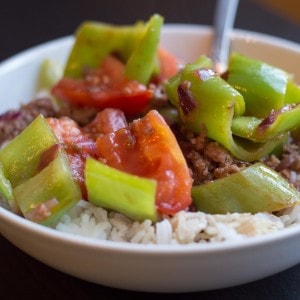 Sweet and Sour Skillet Stir-Fry with Tomatoes and Beef
A savory and sweet stir-fry of ground beef, Anaheim chiles, and Roma tomatoes, napped in a Thai-inspired sweet and sour sauce.
Print
Pin
Rate
Ingredients
2

tablespoons

organic cane sugar

2

tablespoons

tomato ketchup

2

tablespoons

lime juice

1

tablespoon

white vinegar

1

tablespoon

low sodium soy sauce

1

teaspoon

fish sauce

2

tablespoons

canola oil

1/2

medium red onion

chopped

1/2

pound

ground beef

85% lean

4

large Anaheim peppers

halved lengthwise, seeded, and cut into 1-inch pieces

2

large Roma tomatoes

cut into 1/2-inch wedges, wedges halved lengthwise
Instructions
In a small mixing bowl, combine the sugar, ketchup, lime juice, vinegar, soy sauce, and fish sauce. Stir to combine thoroughly and set aside.

Heat the canola oil in a large (12-inch) stainless steel or cast-iron skillet over medium-high heat. Add the red onion and stir-fry until softened, but not quite beginning to brown, about five minutes, stirring often with a bamboo spatula or wooden spoon.

Add the ground beef to the skillet. Break up the meat with a spatula it cooks, stir-frying until it has cooked through and most of the liquid has evaporated, about 5-7 minutes.

Add the peppers to the skillet and stir-fry until al dente, about five minutes.

Add the tomatoes and stir-fry until slightly softened but still whole, about three minutes.

Pour the sauce mixture into the skillet and mix to coat the ingredients evenly. Let simmer until thickened slightly, about two minutes. Serve over steamed rice.