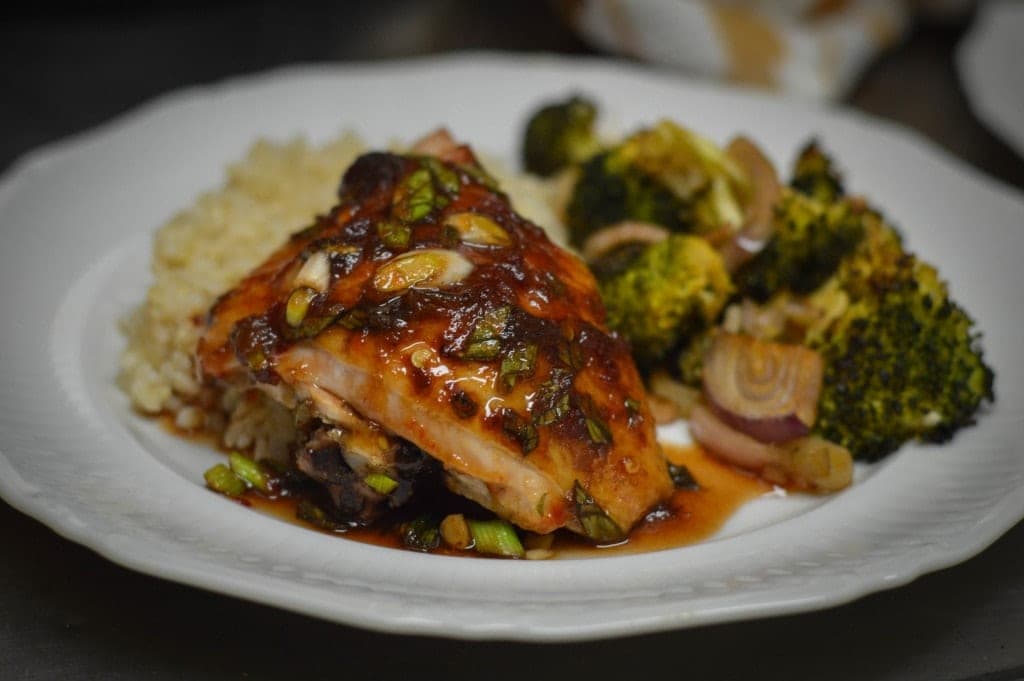 As recipes go, Plum Chili Chicken falls somewhere between quick weeknight dinner and special occasion dish. It's not going to come together in 30 minutes flat (an hour and 15 is more like it), but it is far from fussy or complicated, and the flavor is restaurant-quality delicious.
My husband's mother got the recipe from Better Homes and Gardens' 100 Best Chicken Recipes, a cookbook published in 2003. Unfortunately, it's no longer in print and impossible to track down. If this recipe is any indication, I imagine there are a lot of gems in there. Jan no longer has a copy, as she downsized her cookbook collection the last time they moved. If anybody out there has this book, I am very curious to know about your favorite recipes.
On Valentine's Day, we stayed in and enjoyed our Plum Chili Chicken served over brown rice, with soy sauce-roasted broccoli and shallots on the side. Brendan's eyes lit up when he took his first bite — it was a total kick to watch him mind-travel back to his mom's dinner table in San Diego. Score one for me!
The hardest part of making this recipe was tracking down a jar of plum jam. It used to be much more widely available — Smucker's supposedly makes a Red Plum variety, but I've never seen it on a store shelf. June Taylor makes an incredible Santa Rosa Plum Conserve, but at $15 a jar, I can't imagine using a whole jar in just one recipe.
Luckily, I managed to find not one, but two (!) brands of plum jam at The Milk Pail, my favorite neighborhood open-air, European-style produce and dairy market. I picked up Bonne Maman Damson Plum Preserves, which I used in this recipe, as well as D'arbo Plum Fruit Spread.
The original recipe calls for 2 1/2 to 3 pounds of chicken pieces — to save time and effort, you can use a package of thighs, breasts, or drumsticks. I chose to break down my own Whole Body Fryer chicken from Mary's, a free range chicken farm in the San Joaquin Valley of California. Their organic, air-chilled chickens are my favorite birds to cook at home. Because they're cooled with air instead of the chlorinated water used by most chicken processors, the skin is taut rather than waterlogged, getting reliably crisp in the oven. Air-chilled chickens are also more flavorful (again, due to lack of water absorption during processing), and they tend to be far lower in bacteria since there is less chance of cross-contamination.
On a tip from Jan (a.k.a. Brendan's mom), I deviated from the original recipe by doubling the sauce. This was a great suggestion, as we enjoyed spooning the extra over brown rice, and even incorporating some of it into a vinaigrette for chicken salad with the next-day leftovers.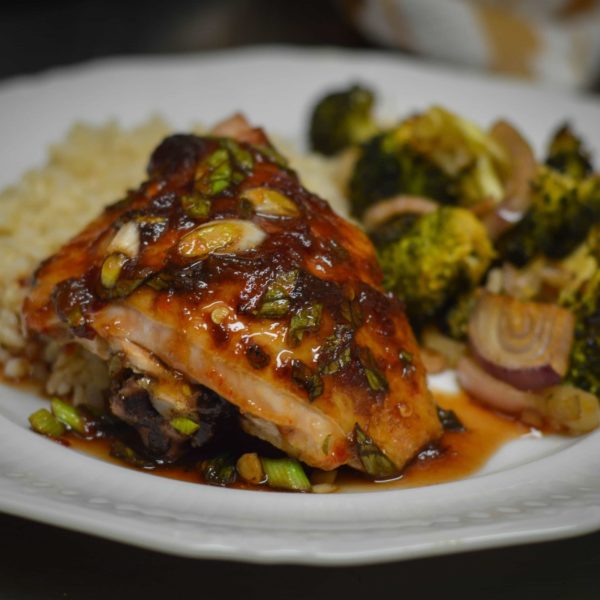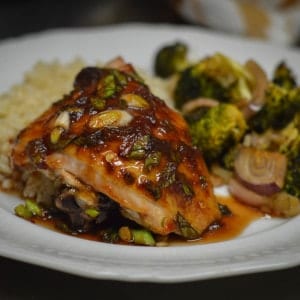 Plum Chili Chicken
Adapted from Better Homes and Gardens 100 Best Chicken Recipes.
Print
Pin
Rate
Ingredients
1

medium-sized

4-pound air-chilled chicken, cut into 8 pieces

1

bunch green onions

sliced 1/4" thick on the bias

1/4

cup

low sodium soy sauce

2

tablespoons

sambal oelek chili sauce

1

1-inch knob of fresh ginger

grated on a fine microplane

2

cloves

garlic

grated on a fine microplane

1

cup

Damson plum jam
Instructions
Preheat oven to 375°F and line a 9" by 13" pan with aluminum foil. Arrange the chicken pieces in the pan so that they are not touching.

In a small (1-quart) saucepan, combine green onion, soy sauce, chili sauce, ginger, and garlic. Brush chicken with 1/4 cup of the mixture.

Bake the chicken for 40 minutes.

While the chicken is baking, add the plum jam to the mixture in the saucepan and whisk to combine over low heat, until thoroughly combined.

Remove chicken from oven and baste with about half of the jam mixture. Return to oven and bake for another 15-20 minutes, until chicken is cooked through.

Return the remaining jam mixture to the stove, and heat over medium-low flame until it just begins to boil. Spoon over chicken before serving.