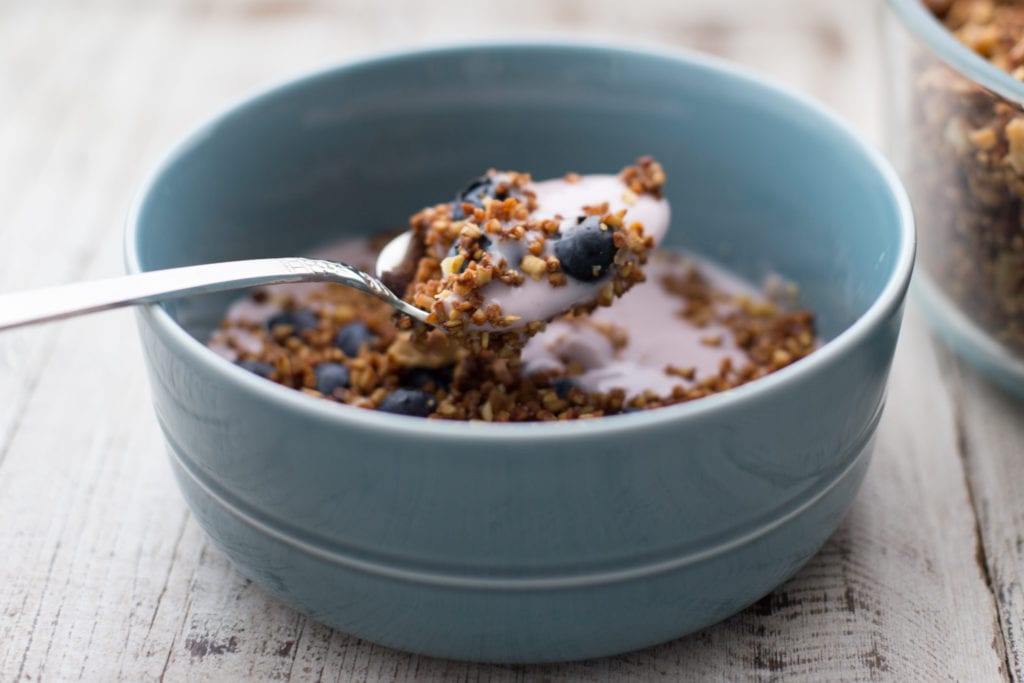 Once it's warm outside, my breakfast preference changes from a comforting bowl of oatmeal to a cold and creamy bowl of yogurt topped with fruit and toasted nuts. To make my morning bowl even better, I used the last of the steel cut oats left in my pantry to make this insanely crunchy, vanilla-caramel-flavored granola of the gods.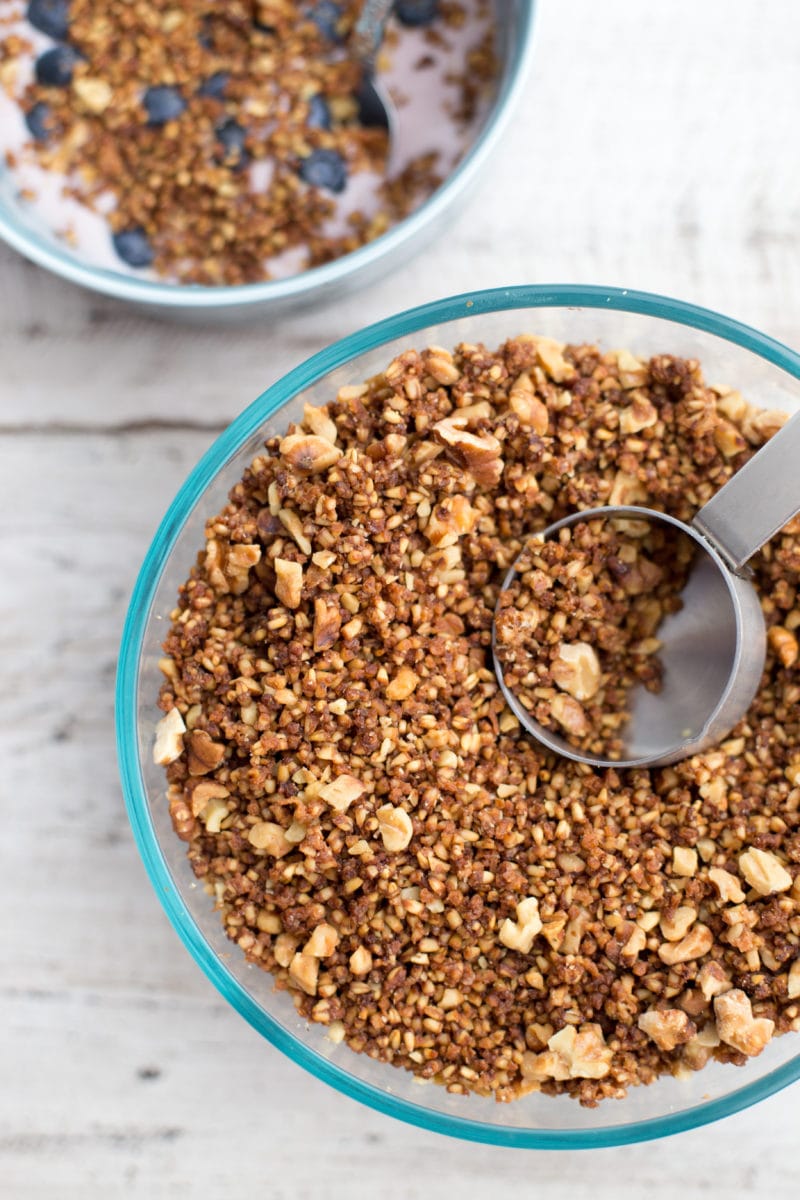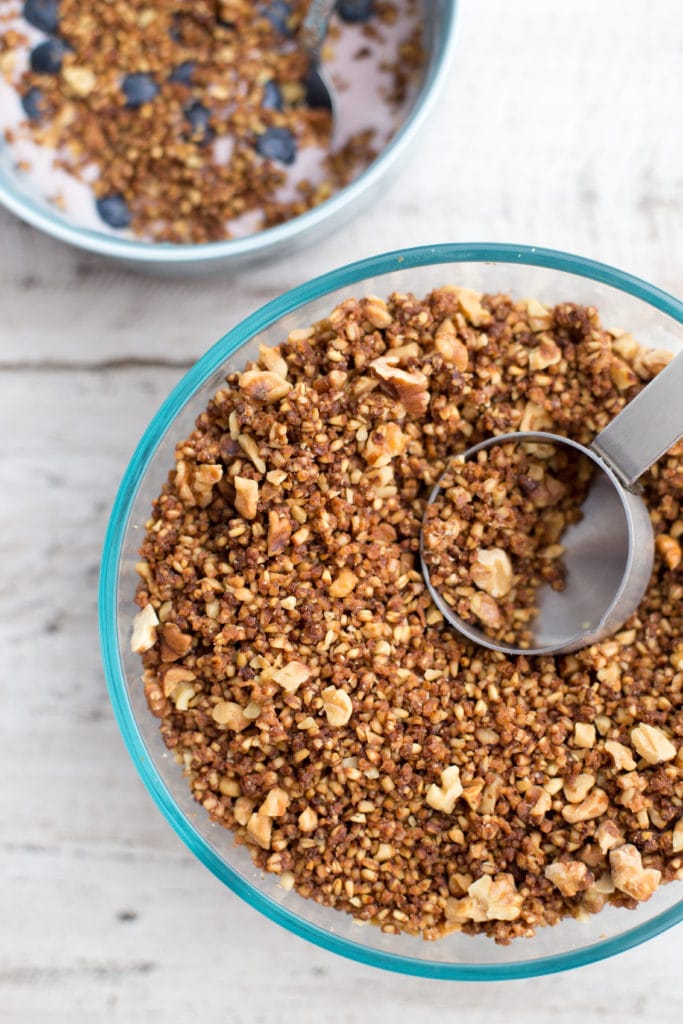 This recipe is very simple. It doesn't contain any dried fruit, since I prefer fresh berries this time of the year. It's a basic mix of oats and chopped walnuts, and it's really meant more as a topping than something you'd eat as a snack, or in cereal bowl-sized quantities. I find that a couple tablespoons are plenty to jazz up my yogurt bowls. I could also see this being really good as a topping for chocolate-covered, frozen bananas.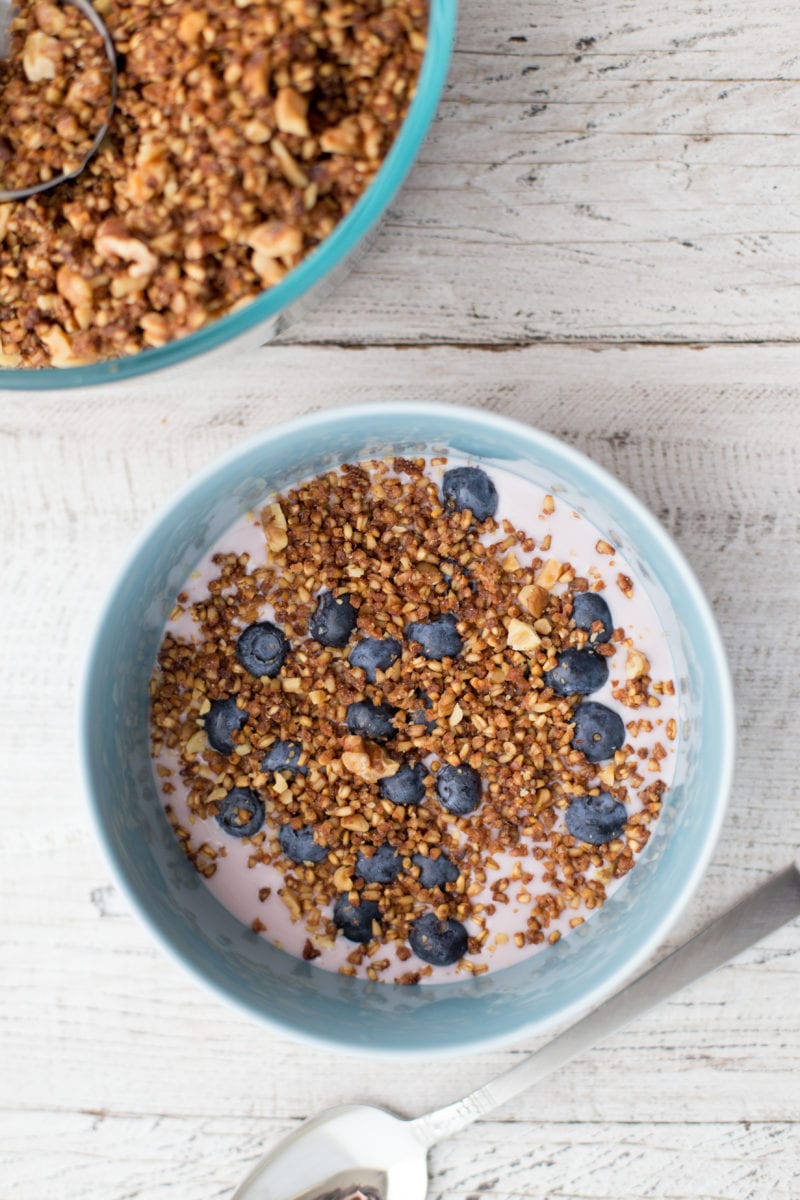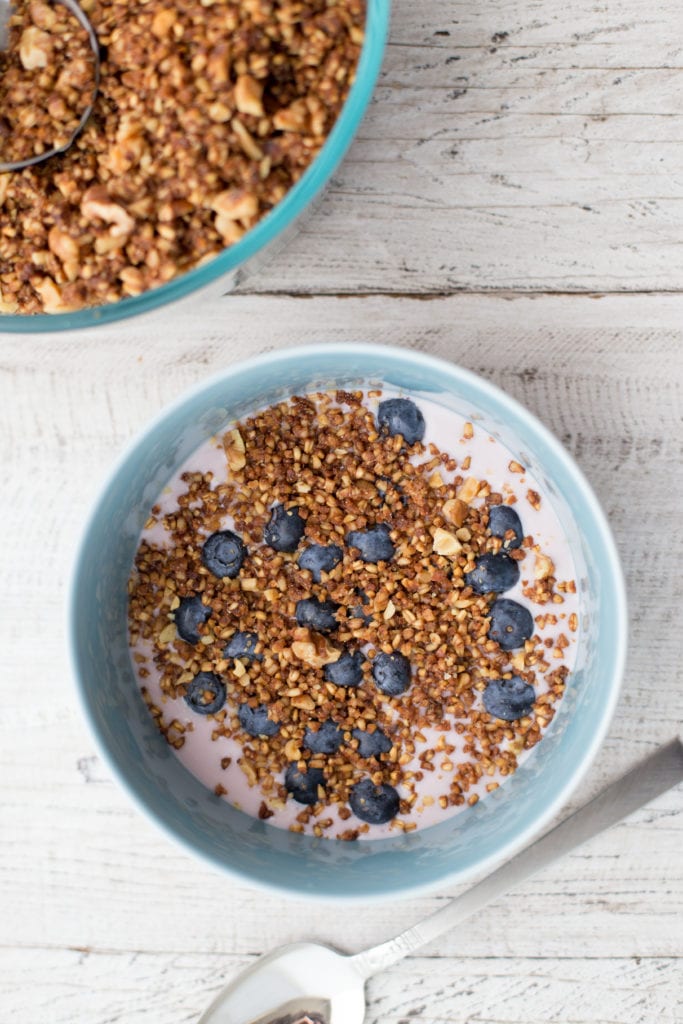 I've been thinking about making a steel cut oat granola for some time, but I wasn't sure how to keep it from turning out inedibly rock hard. The key step in this recipe was inspired by Stella Parks' recent recipe on Serious Eats, in which she soaks her rolled oats in buttermilk to give the finished granola an extra light, crispy texture. As it turns out, soaked steel cut oats turn out crispy and crunchy when soaked, too!
I figured I'd make my granola vegan, since I'd just picked up some of the cashew-based milks and yogurts from Forager Project, who generously sent me some coupons for review. I've been using their unsweetened cashew milk in smoothies and my morning coffee, and it works perfectly in this recipe, too! I prefer their unsweetened products in general — the cashewgurt comes in both plain and fruity varieties, in single serving cups and in a drinkable, kefir-style version.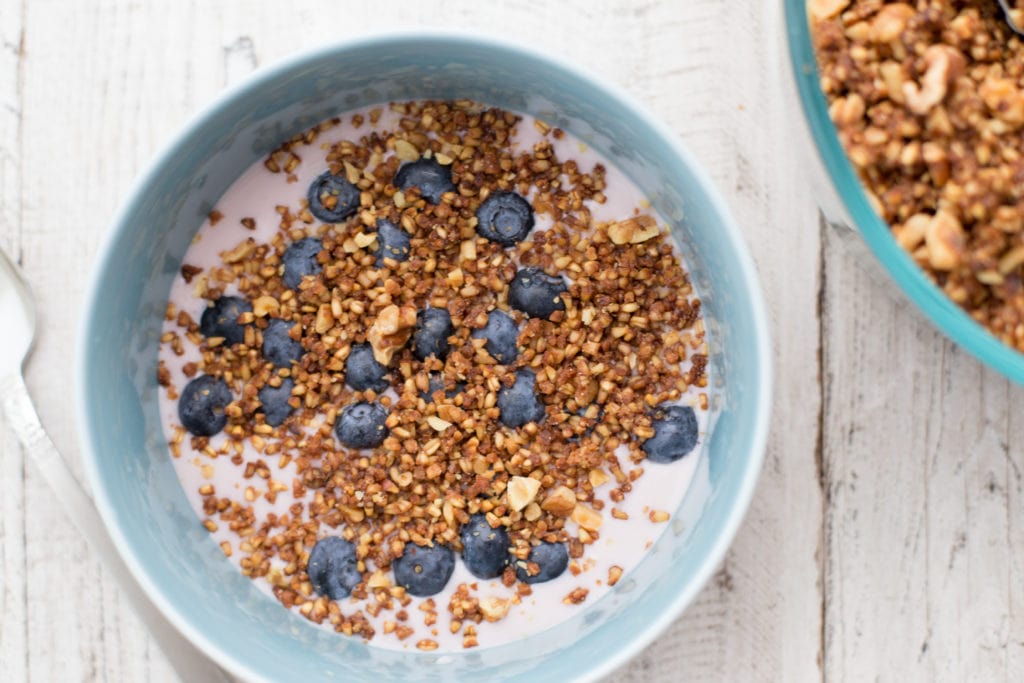 This granola cooks low-and-slow. It takes over an hour in a low oven, with a few stirs along the way. The end result is lots of deeply caramelized flavor and a super crunchy texture. If you've got winter cereal left in the pantry like I did, this is a great way to use it up!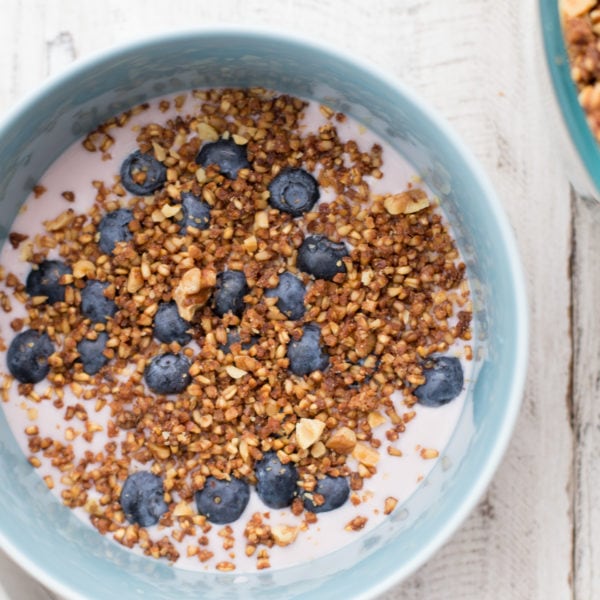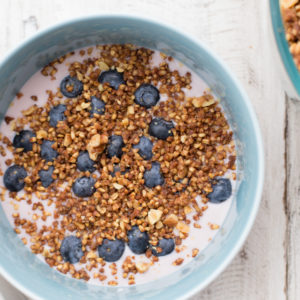 Steel Cut Oat Granola [Vegan + Gluten Free]
Grapenuts on steroids! Just a couple teaspoons of this super crunchy granola jazzes up a bowl of yogurt like no other.
Print
Pin
Rate
Ingredients
2 1/2

cups

steel cut oats

1 1/4

cups

unsweetened cashew milk

1 1/2

cups

walnut halves and pieces

1

cup

organic cane sugar

4

tablespoons

melted coconut oil

plus a little extra for greasing the pan

1

teaspoon

vanilla extract

1

teaspoon

kosher salt

1/2

teaspoon

ground cinnamon
Instructions
In a mixing bowl, combine the oats and cashew milk. There should be just enough milk to fully submerge all of the oats -- add an extra splash if necessary. Cover the bowl and refrigerate for at least 4 hours, or up to overnight.

Preheat the oven to 300ºF and grease a sheet pan with a dab of coconut oil. Spread out the walnuts in a baking dish in a single layer.

Stir the sugar, melted coconut oil, vanilla, salt, and cinnamon in with the soaked oats, then spread them out on the sheet pan in an even layer.

Bake the walnuts for 15 minutes, until they're aromatic and toasted.

Bake the granola for 1 hour and 15 minutes, stirring it every 25 minutes so that it browns evenly. You'll need to scrape the oats off of the pan -- a wooden spatula is a great tool for this job.

When the granola is done, it will be a deep, golden brown. Remove the sheet pan from the oven and let the granola cool to room temperature.

Chop the walnuts, then combine them with the cooled granola. Store the granola in an airtight container for up to two weeks.