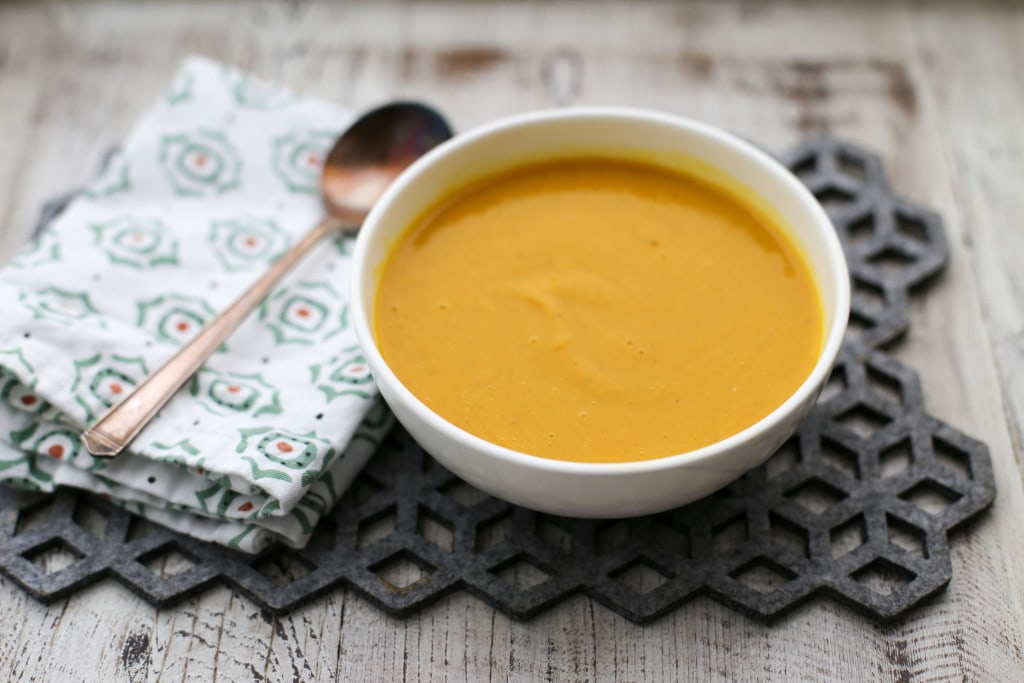 I came up with this recipe based on a request from my mother. My husband and I were going to my parents' place for Halloween, and she wanted a not-too-sweet pumpkin soup to accompany dinner.
While some people like sweeter, cinnamon and nutmeg-spiced concoctions, my mom is not a fan. She prefers an orange-tinted sipper with a savory flavor profile. I can honestly go either way, depending on my mood.
For a savory soup, I start by roasting up a bunch of vegetables, seasoned simply with salt, pepper, and fresh thyme leaves. For this batch, I peeled and cubed a couple of cute little Honeynut squashes (they were about 1 pound each), but you can use Butternut, Kabocha, Sugarpie Pumpkin, or whatever other winter squash you prefer. Just pick a dense, firm-fleshed variety and you're good to go. To cut the sweetness of the squash, I always add in a good amount of celery, along with parsnips or carrots, a few cloves of peeled garlic, and an onion.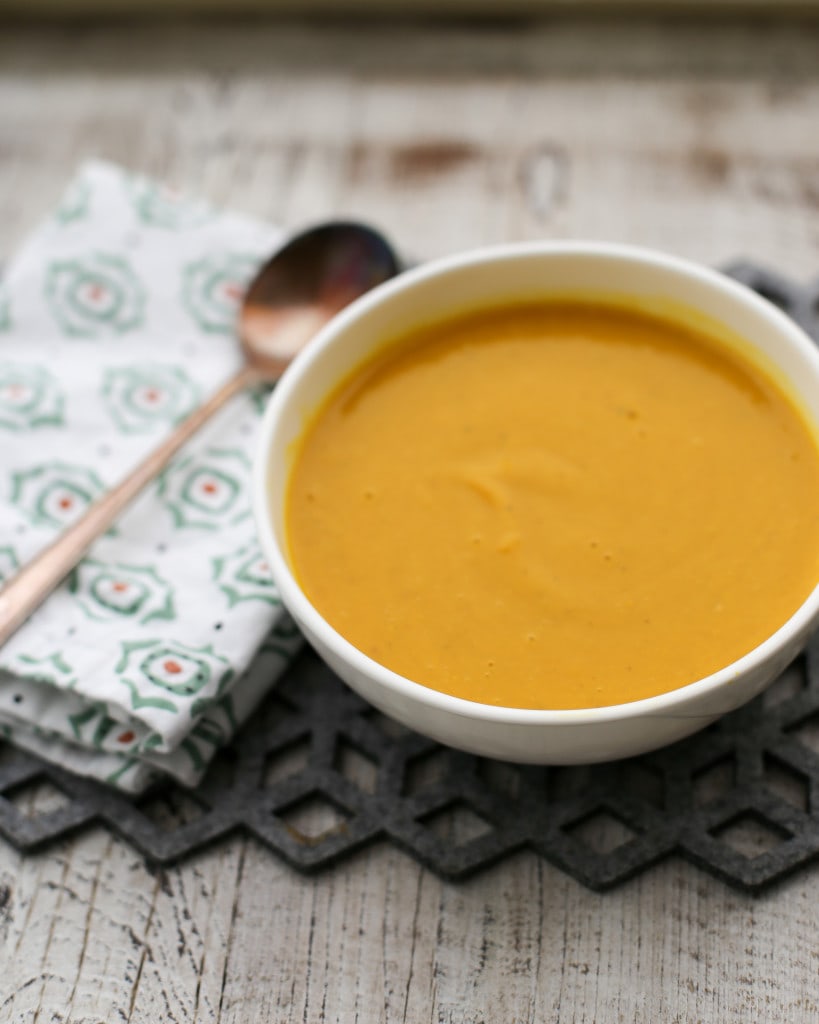 Once the vegetables are roasted, I chuck them into the blender and blitz them up with chicken broth until the mixture is smooth and creamy. Even with a large blender, I do this step in two batches — it's much safer for my kitchen walls.
The soup isn't quite done once it's out of the blender. At this point, it's more of a soup concentrate, really. You could even serve it as a "Fall Vegetable Puree" or somesuch at this point. I like to store it this way, then heat up however much I need in a small saucepan, thinned out with equal parts broth or water. It takes up a lot less space in the fridge this way, and can be made up to three days ahead.
Serve the soup on its own in a big mug (hello office lunch or couch dinner), or as a first course with some toasted croutons on top.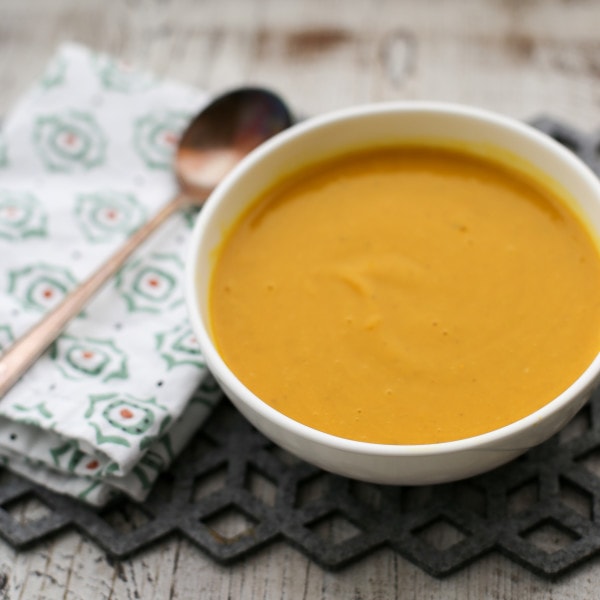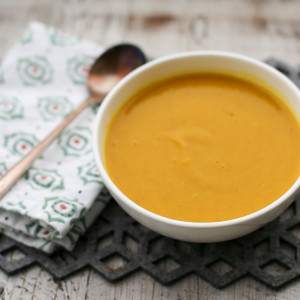 Savory Honeynut Squash Soup
A savory take on winter squash soup. The vegetables are roasted to concentrate their flavor.
Print
Pin
Rate
Ingredients
2

large

1-pound each Honeynut squash, peeled, seeded, and cut into 1-inch cubes

3

small parsnips

peeled and sliced into 1-inch pieces

4

large ribs celery

sliced into 1-inch pieces

1

large yellow onion

chopped

8

medium cloves garlic

peeled

6

sprigs thyme leaves

removed from their stems (about 1 tablespoon)

2

tablespoons

avocado oil

1/2

teaspoon

salt

1/2

teaspoon

ground black pepper

1

quart

chicken or vegetable broth

plus 1 additional quart broth or water for heating and serving
Instructions
Preheat the oven to 375ºF and line a rimmed baking sheet with a silicone baking mat or parchment paper.

In a large bowl, toss the vegetables with the oil, salt, and pepper. Turn them out onto the baking sheet in an even layer.

Roast the vegetables for 45 minutes. Remove the sheet pan from the oven and let the vegetables cool for at least 15 minutes, until no longer piping hot.

Transfer half of the vegetables and two cups of the chicken broth to your blender. Purée at high speed for about one minute, until smooth. Repeat with the second batch of vegetables and broth. Store the soup in the refrigerator in a tightly-lidded container until ready to serve.

When it's time to serve the soup, ladle as much as you need into a small pot, thinning with the extra broth. Heat it on low, stirring often, until piping hot. Adjust for seasoning and serve.
Notes
This is a great recipe to make ahead, or if you're traveling somewhere. It comes out of the blender lukewarm, ready to be poured into tightly-lidded containers and chilled until you're ready to serve it.