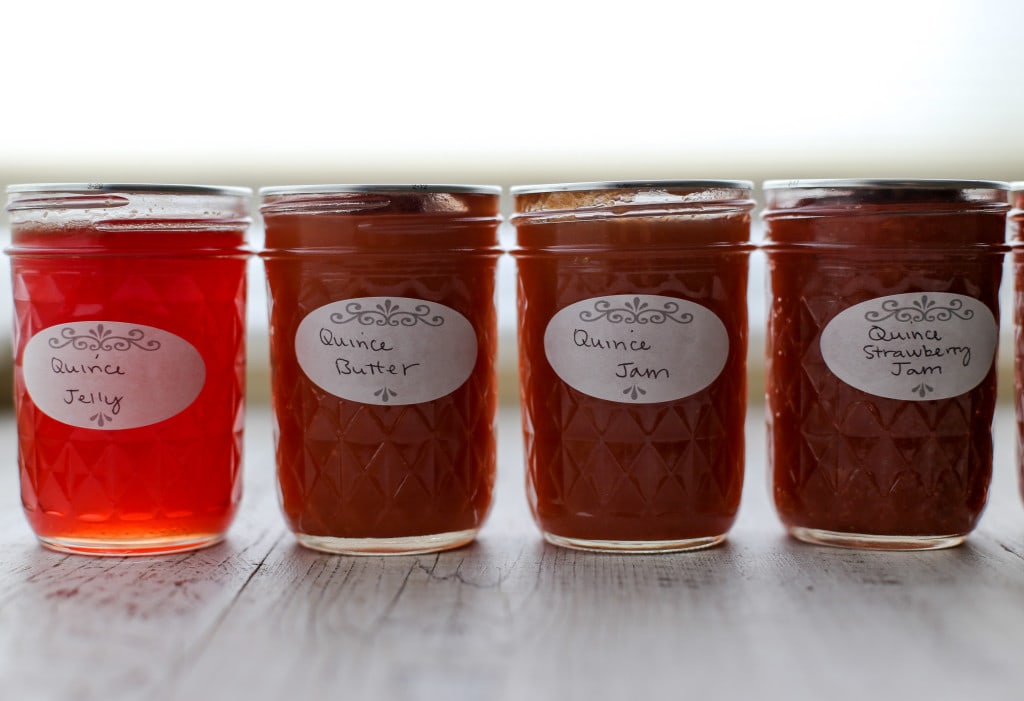 I've been canning with my Aunt Belinda (a.k.a. Auntie Bel) since I was about seven years old. Each summer, she and her mother (or Auntie Mim to me) would round up the best summer berries and stone fruit they could find, and we'd process all of it into dozens of jars of jam. Lots of my other cousins have memories of doing this too. Mim and Bel enlisted many of us for help, and they made enough jam each year to supply our entire family with generous holiday gift baskets containing three or four jars of jam each.
I love carrying on this tradition. I like to think that Mim would be happy to see us getting together and canning away all these years later. Bel and I have changed up our methods a bit, foregoing the use of pectin and trying out different fruits each year. Over the last few summers, we've done blackberry jalapeño, black apricot strawberry, and most recently Early Girl tomato.
This year, I sourced our fruit as locally as possible, from the backyards of my friendly neighbors. It was as simple as posting a request on Nextdoor to all of Midtown Palo Alto, asking for fruit in exchange for a jar or two of finished jam.
A handful of neighbors were happy to share their June harvests of plums (lots and lots of plums), which I pitted and froze. Then in August on one very productive day of jamming, Bel and I turned them into a few dozen jars of jam. The very next day, another neighbor offered up about 30 pounds of quinces. It was up to me to process those on my own.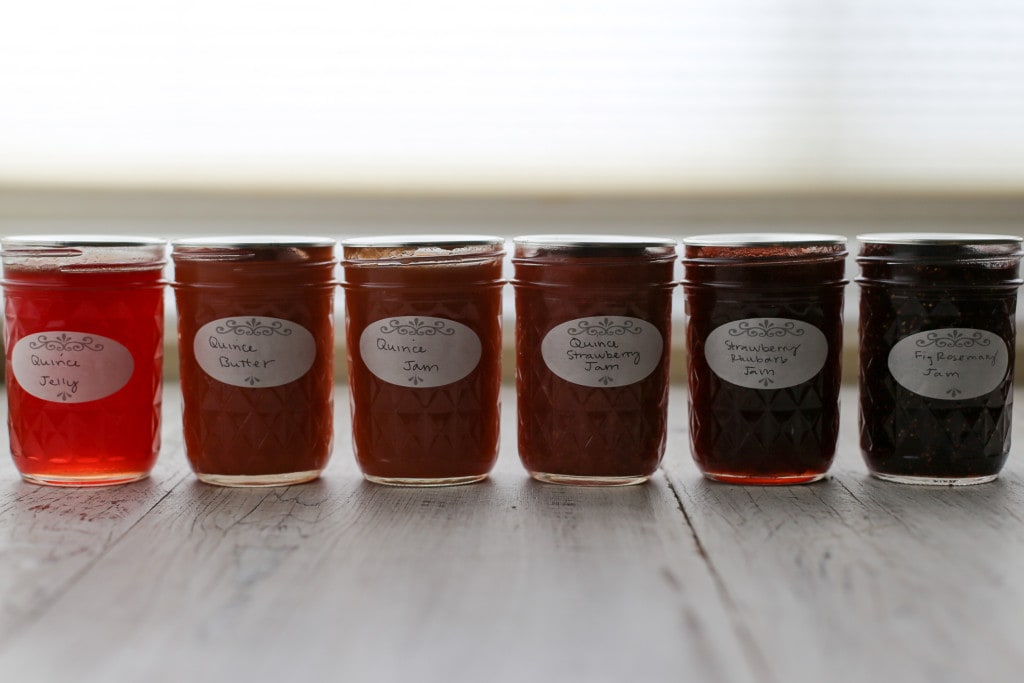 I went a little quince crazy that week, trying out different recipes each evening after work. I canned a smooth quince butter as well as a rustic quince jam, and used the cooking water to make beautiful, rosé pink quince jelly. Lastly, I made a batch of thick quince paste, squares of which should last in the refrigerator for many months.
My favorite jam from this season's experiments is the recipe I'm sharing with you today: Quince Strawberry Jam. I couldn't find a single recipe for this combination in my cookbooks or on the internet. This may be due to the fact that for most of modern history, strawberries and quinces simply weren't ripe at the same time, and so it wouldn't have made sense to can them together.
Late Summer in California offers a crazy jumble of summer and fall fruits, bringing new possibilities to the table. It may be my favorite time to shop at the farmers' market. Summer and fall produce vie for attention — there're dry farmed Early Girl tomatoes, winter squash, stone fruits, grapes, apples and pears, available all at once for a short window before fall truly sets in.
The floral flavors of quince and strawberry complement each other very well in this tangy and sweet preserve. Spread it on toast, layer it between cookies, or stir it into yogurt for an afternoon snack. It's also great blended into lassis, a refreshing treat for these last few warm summer days. To make one, just blend up a generous dollop of jam, a cup of yogurt, and a splash of water. Chill well and enjoy.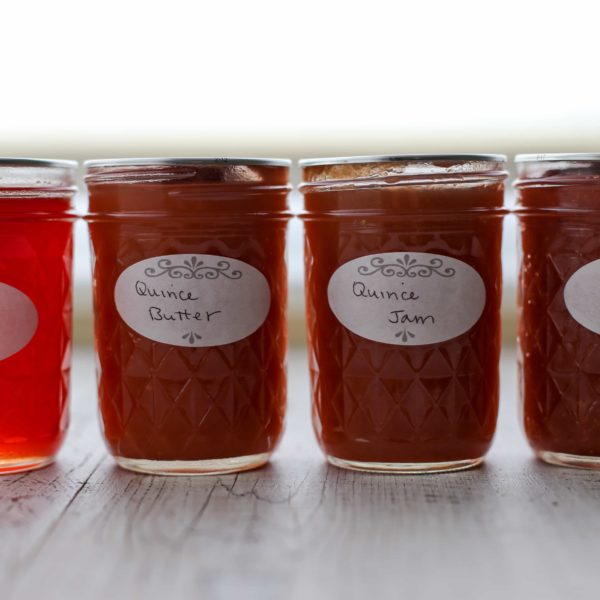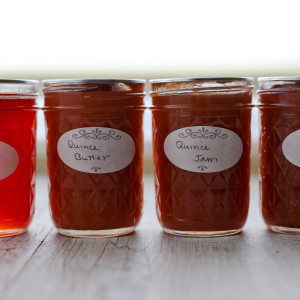 Ingredients
8

quince

about 4 pounds. Yield 3 1/3 pounds after coring.

2

quarts

water

1 1/4

pounds

hulled and halved strawberries

2

lbs

sugar
Instructions
Wash the quince, wiping off any fuzz. Quarter and core them (carefully, as they're quite hard and dense), then grate into shreds using a food processor with a grating disk attachment, or a box grater. There's no need to peel the quince, as the skins will all get blended into the finished jam.

Combine the grated quince and water in an 8-quart dutch oven or heavy-bottomed soup pot. Cover and bring to a boil over high heat (this takes about 12 minutes), then turn down to medium and continue to cook for 10 minutes. Drain the quince in a large colander, reserving the liquid (a little less than 6 cups) for quince jelly, if desired.

Return the quince pulp to the pot and add the sugar and strawberries. Put the pot back on high heat, stir, and cover, letting it come up to a hard boil (about 10 minutes). Stir again, turn heat down to medium, cover the pot and leave it alone for 10 more minutes. Stir, cover and let cook for 5 minutes. Repeat at five minute intervals until the strawberries have softened and broken down.

Remove the pot from the heat. Use an immersion blender (make sure it has a metal stick, as the mixture is very hot) to puree the jam until smooth. Return the pot to the stove over medium heat, cover, and let cook 5 more minutes. At this point, the jam is like molten lava. It's going to spurt and spew like the dickens, and you don't want to get burned.

Turn off the heat, and let the jam sit for five more minutes, covered. Then uncover and stir one more time (wearing long sleeves, oven mitts, and standing back. It still might burble!).

Ladle the jam into hot, clean jam jars. Top the jars with their lids and bands, and water bath process for 10 minutes (or according to the "jam" program on an electric hot water bath canner).

Cool the jars undisturbed for at least 12 hours, then remove the bands, wash the jars, and store for up to one year.
Notes
To make quince jelly: In a large (4 to 6 quart) heavy bottomed pot or dutch oven, combine the cooking liquid (a little less than 6 cups) from the quince with 2 cups of sugar. Bring to a boil over high heat. Turn down to medium-high and let boil, uncovered, stirring occasionally until a thermometer registers 220ºF. This will take about 40 minutes, depending on the heat of your stove. Yields 3 8-ounce jars.