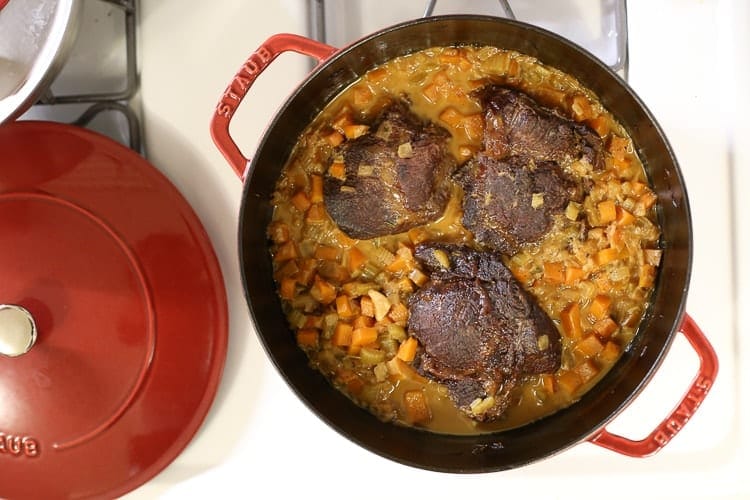 Last weekend, I scored a great Craigslist find: a brand-spanking new Staub 4-quart braiser. The lady who sold it to me looked to be about my age, but with a dramatically different life — she and her husband had a toddler and a one-year-old, so there was no longer room in their house for extra cookware. Well, according to her explanation, anyway. Our apartment is about 1/4 the size of their house, so lord help us if we end up with any new additions to our family while we're living here . . . In any case, that braising pan was a wedding gift she hadn't registered for, and they already had a few other cast-iron pieces. And so, it had to go, out of her kitchen and into my loving arms.
I tell you, this piece of cookware is a thing of beauty. It's heavy-duty but not ridiculously so, and its black enamel interior looks to be pretty indestructible. On the drive home, I couldn't help but plot out what to make for dinner (in the new pot, of course). I figured we could go to the butcher shop and I'd find some inspiring piece of protein to give a long, slow braise.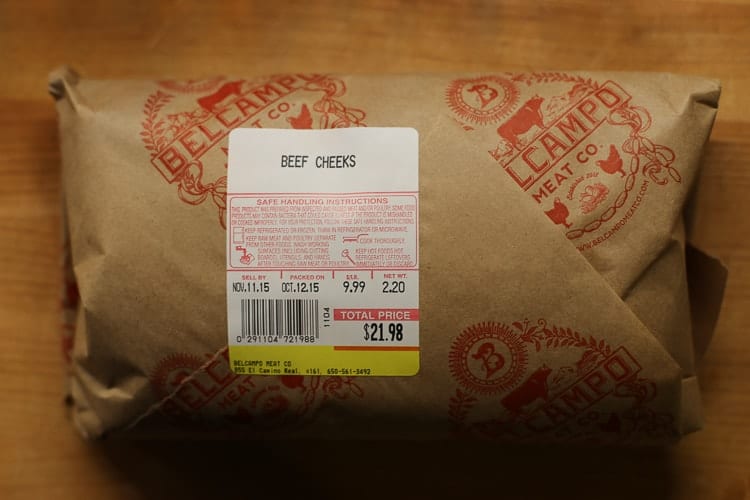 Belcampo Meat Co. didn't disappoint. In their pristine meat case were plenty of cuts well-suited to braising, including pork, lamb, and beef. I settled on a pair of round, dark cuts of beef cheek, the butcher's recommendation.
In the house, we already had all of the other requisite ingredients for a classically french braised beef dish. For the braising liquid, there was plenty of gelatin-rich broth in the freezer, courtesy of some beef bones from Markegard Farms' booth at the College of San Mateo Farmer's Market. Plopped into a small saucepan over medium-low heat, it defrosted while I put together the base of the dish.
I figured it'd be hard to go wrong with some comforting flavors from my childhood — dijon mustard and fresh rosemary. My mom uses this combination on chicken all the time, and my dad pairs it with roast leg of lamb. It's also great on tofu — my brother fries up cubes with olive oil, rosemary and dijon, adding nutritional yeast and soy sauce for extra savory, hippie-approved flavor. I think my whole family would have approved of these beef cheeks if they'd been at our place for dinner that night.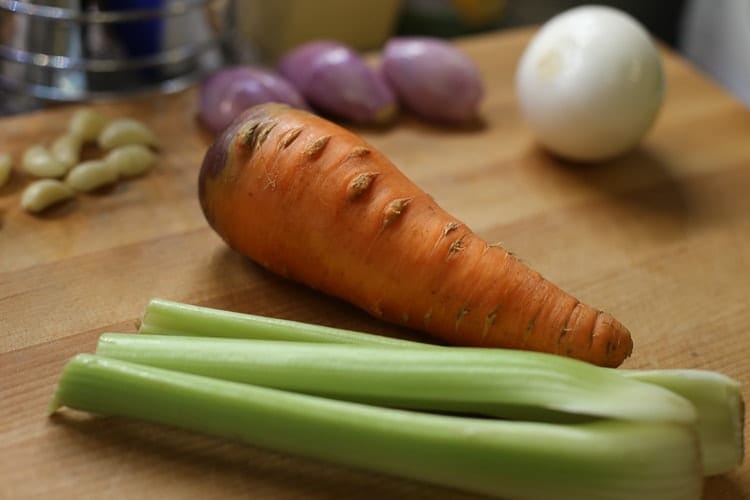 My cooking method was very simple: after searing off the beef and sautéing a deluxe mirepoix of Chantenay carrot (just one enormous specimen), celery, shallots, onion, and whole garlic cloves, I added a good glug of dry white wine, a big spoonful of dijon mustard, some chopped rosemary, and a few anchovies. Next, I nestled the seared beef cheeks back into the pot, adding enough hot beef broth to cover them by about two thirds. On went the heavy lid, and the dish cooked in a low oven for just under three hours, until the beef was tender but not falling apart.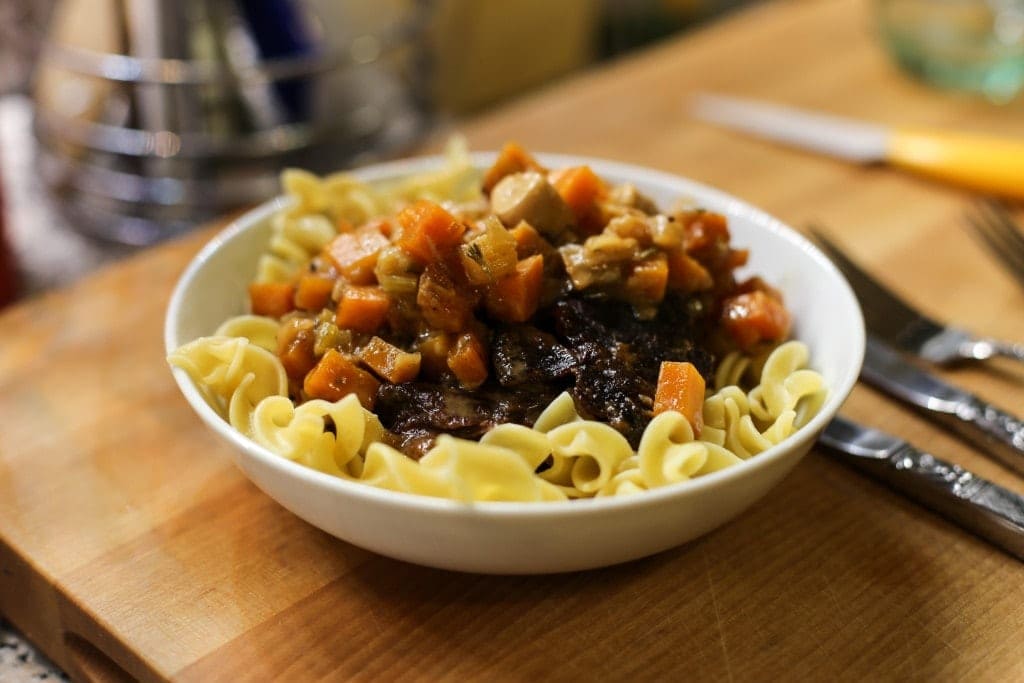 We ate our braised beef cheeks over egg noodles, but they'd be great with mashed potatoes, roasted root vegetables, or a batch of polenta too. Oh, and if you can't find (or don't want to use) cheeks, feel free to substitute short ribs, brisket, shanks, or any other tough cut of beef or lamb suited to slow cooking.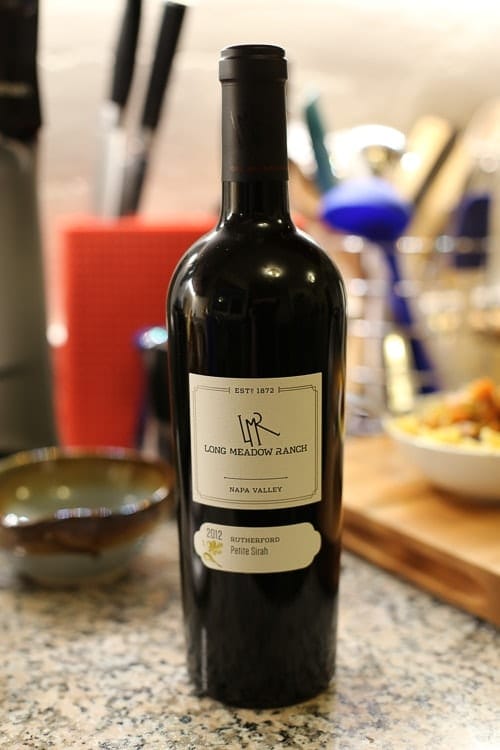 Oh, and this meal practically begs to be paired with a generous pour of red wine. We chose to open up one of our special bottles, a Petite Sirah we bought on my blowout birthday weekend in Napa last winter. It's a berry-forward, medium-bodied wine, perfect for pairing with braises or barbecue.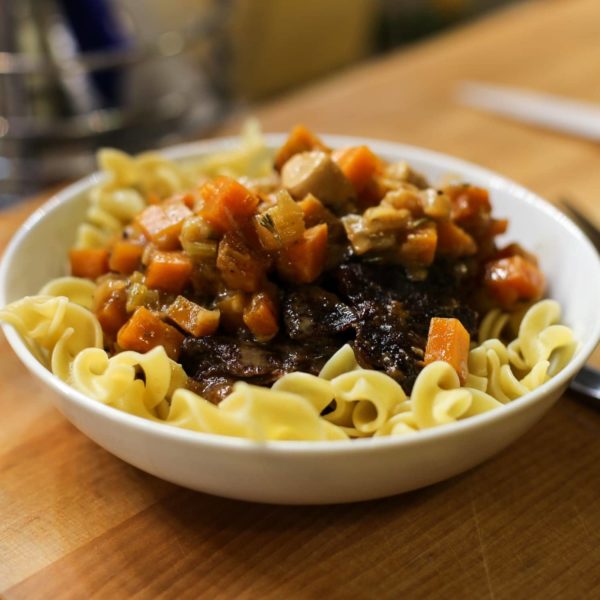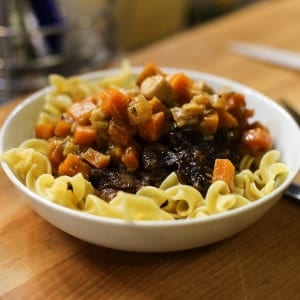 Braised Beef Cheeks with Dijon and Rosemary
A comforting braise, perfect for chilly fall or winter nights. It simmers all afternoon on the stove, the aroma becoming increasingly intoxicating as dinnertime nears. Serve over egg noodles, mashed potatoes, or polenta.
Print
Pin
Rate
Ingredients
2

beef cheeks

2.25 pounds

Salt and pepper

2

tablespoons

olive oil

3

ribs celery

large dice

1

big Chantenay carrot

or three large regular carrots, large dice

1

medium white onion

large dice

2

large shallots

large dice

8

cloves

garlic

whole

1/2

teaspoon

salt

1

cup

white wine

1 1/2

tablespoons

dijon mustard

1 6-

inch

sprig rosemary

chopped

4

anchovy fillets

2

cups

homemade beef bone broth or low sodium beef broth

hot
Instructions
Pat the beef cheeks with a paper towel to ensure they're nice and dry —this will help you get a good sear. Season them liberally with salt and pepper on both sides.

Heat the olive oil in a large (4 to 6-quart) braising pot, dutch oven, or heavy-bottomed soup pot over medium heat. When the oil just begins to smoke, sear the beef cheeks for about five minutes per side, until well browned and no longer sticking to the pot. Transfer the meat to a plate and set aside.

Add the celery, carrot, onion, shallot, and garlic to the pot. Sprinkle in the 1/2 teaspoon salt, then stir the vegetables to coat them with whatever oil and browned bits are in the pan. Cover the pan and let the vegetables sweat for about 10 minutes, until onions are translucent and softened, and just beginning to brown.

Add the wine, dijon, rosemary, and anchovies. Bring to a boil and let bubble for about five minutes, until the mixture has thickened a bit and no longer smells of alcohol.

Push the vegetables out of the center of the put, then place the beef cheeks in the middle of the vegetables. Pour in the hot beef broth — it should cover about 2/3rds of the way up beef. If you don't have enough broth, add a little water.

Preheat the oven to 325ºF. When the braising liquid comes up to a simmer, cover and bake for about three hours, until you can cut the meat with a butter knife, but it is not falling apart. The braising liquid should have reduced down to a nice sauce. If it is still too thin once the beef is cooked, remove the beef to a serving plate and reduce the liquid on the stovetop.