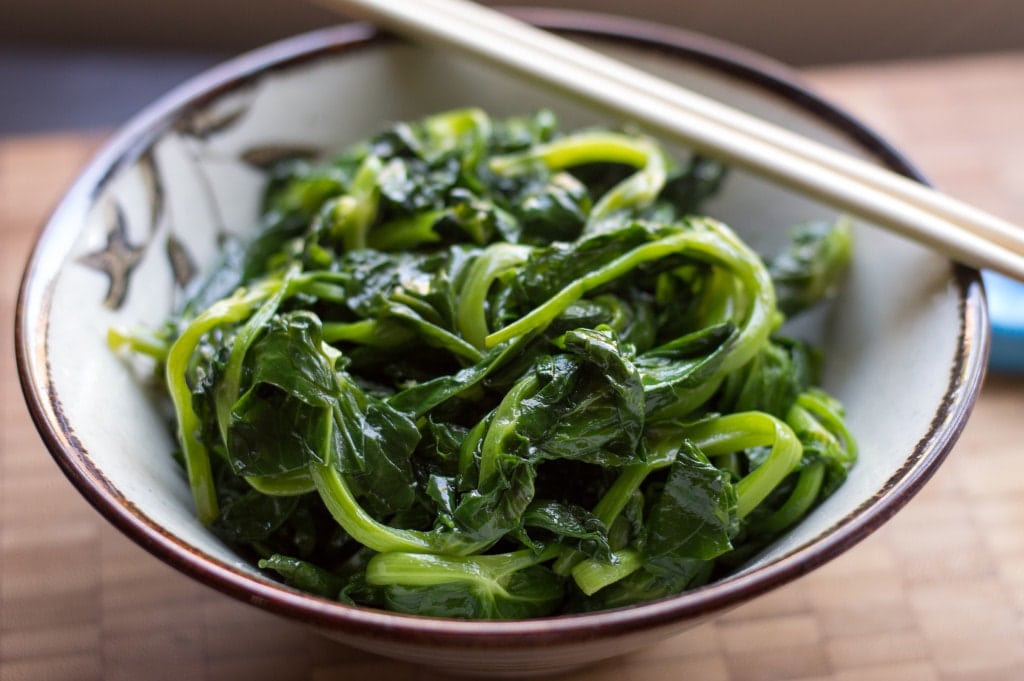 If you've ever shopped at a Chinese market, chances are you've seen a whole section of the produce department devoted to different kinds of greens. Clear produce bags stuffed to bursting with leaves of various kinds, attractive and fresh and begging to be thrown into your grocery cart. Until recently, I pouted past the unfamiliar varieties, settling on a bag of baby bok choi, the only specimen I recognized and knew how to prepare (simply steamed with a sprinkle of soy sauce).
I'm so glad I finally asked a friend of mine how to properly prepare all those other unfamiliar greens. It turns out that virtually all of them take well to a simple, two-part method.
Step 1: Blanch Your Greens
Blanching the greens helps preserve their green color, and also wilts them down considerably, so you'll have a much easier time tossing them around in your wok or skillet. Just bring a big pot of water to a rolling boil, then add your leaves. More tender, thinner varieties such as pea shoots and yam leaves will take under a minute, while hardier varieties like Gai lan (a.k.a. Chinese Broccoli) will take a little while longer to soften. When they're wilted, drain the greens thoroughly in a colander, tossing a couple times to remove any excess water.
Step 2: Stir-Fry Your Greens
The last and final step in the process is a quick stir-fry. In a wok or skillet over medium-high heat, you'll heat a couple tablespoons of vegetable oil, along with some chopped garlic.  Next, the greens get tossed around in the aromatic oil, just for a minute or two. Finally, a glug of soy sauce and a dash of sesame oil pulls the whole thing together. And you're done.
A Couple Quick Tips
Before you go to the store, track down the Chinese names for a few kinds of greens you might want to prepare. The Kitchn has a great guide to get you started.
If you've got a hot water kettle, it's a great time and energy-saver when it comes to boiling a pot of water. I fill mine up to its max capacity, then pour the water into a pot on the stove.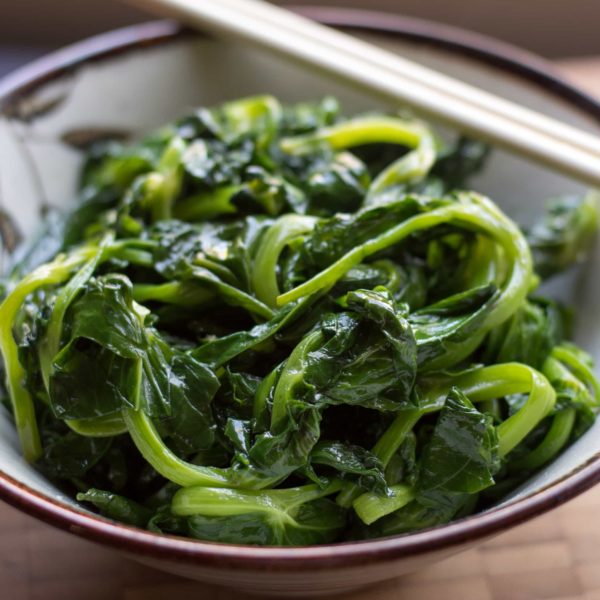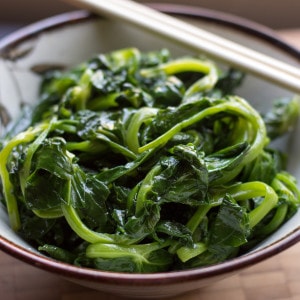 Stir-Fried Pea Shoots
A quick and easy method for preparing any kind of Asian greens.
Print
Pin
Rate
Ingredients
8

cups

pea shoots or other tender Asian greens

1

tablespoon

vegetable oil

1

clove

garlic

minced

1

tablespoon

soy sauce

1/4

teaspoon

toasted sesame oil
Instructions
Bring a large pot of water to boil. Blanch the greens for one minute, then drain in a colander.

Heat the vegetable oil in a wok or large skillet over medium heat. When the oil begins to shimmer, add the garlic and stir-fry just until aromatic but not browned (this will take less than a minute).

Add the greens and stir-fry for another two minutes.

Add the soy sauce and sesame oil and stir-fry for one more minute. Transfer to a bowl and serve piping hot.