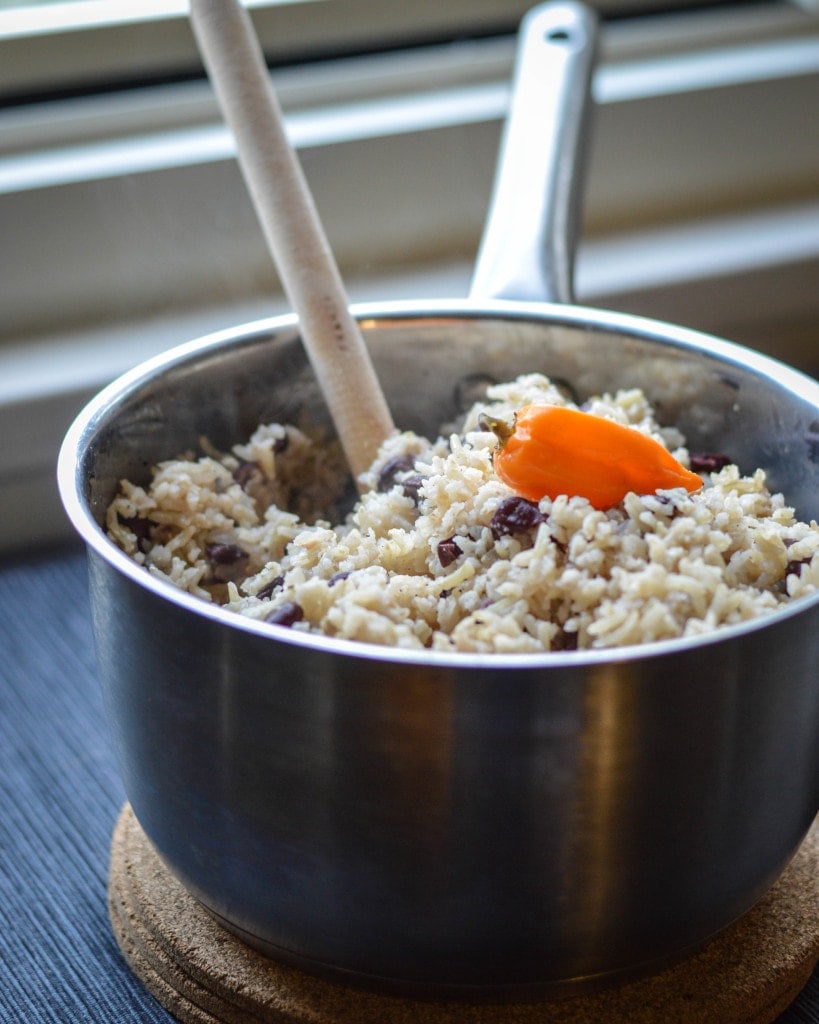 Back in the not-so-distant past when my husband was my boyfriend, he lived in a not-s0-safe neighborhood. The one saving grace of that house was its proximity to some of the best Caribbean food in the Bay Area. Takeout from Back A Yard Grill quickly became a date night favorite — we'd set ourselves up on the couch to watch episodes of Brisco County Jr., our plates full of jerk chicken and salmon, steamed vegetables, stewed collard greens, and my favorite side dish, rice and beans.
Ever since we moved in together, I've thought about making my own version. The rice and beans dish served at Back A Yard is referred to in Jamaican cuisine as Rice and Peas, as the most authentic versions feature pigeon peas. They can be hard to find in most grocery stores, and kidney beans are a fine substitution — they're used in the version at Back A Yard as well as my own recipe below. I also used a habanero pepper in lieu of the more traditional scotch bonnet variety, as they are much easier to track down in our neck of the woods.
Enjoy your beans and rice alongside your favorite grilled dish. They're perfect with some some jerk chicken hot off the grill (my friend Danielle's recipe looks incredible, and I've been meaning to try it!), or with some pan-fried sausages for an easy weeknight meal.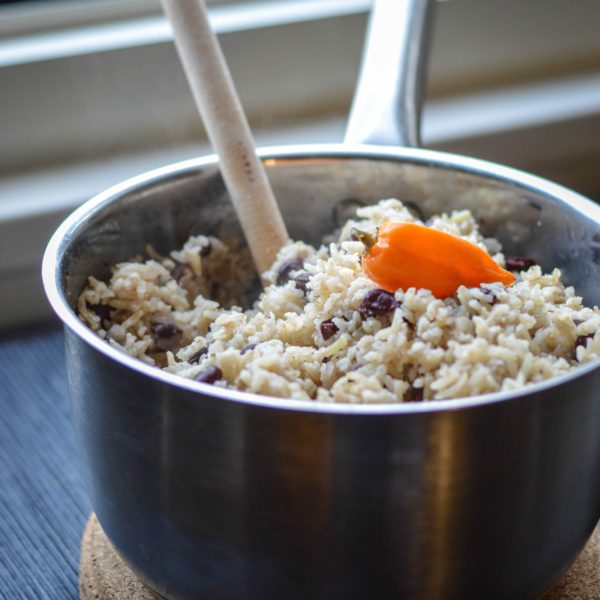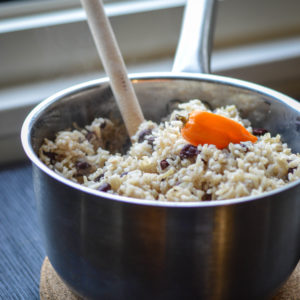 Ingredients
1 1/2

cups

brown basmati rice

2

cups

water

1

15 ounce can kidney beans, rinsed and drained

1

cup

coconut milk

2

large garlic cloves

smashed

1

green onion

smashed

1

habanero pepper

left whole

1/2

teaspoon

dried thyme leaves

1/2

teaspoon

ground black pepper

1/2

teaspoon

fine sea salt
Instructions
Combine rice and water in a 2-quart saucepan. Let soak for one hour.

Add remaining ingredients to saucepan and stir until combined — the garlic cloves, green onion, and habanero will float at the top of the liquid.

Place the saucepan over medium heat, bring up to a boil, then turn down to low and let simmer, covered, for 45 minutes, until rice is fluffy and all of the liquid is absorbed. Turn off heat and let stand for 15 minutes.

Discard the garlic cloves, green onion, and habanero pepper. For a traditional presentation, scoop the rice and beans into a cup measure or bowl, patting down with a spoon to create a firm mound. Flip over onto a plate, unmold and serve
Notes
Whenever I cook a rice dish, I let it stand off the heat for 10 or 15 minutes before serving. This allows the moisture and heat to redistribute throughout the dish, unsticking any stubborn rice from the bottom of the pot and fluffing it up a bit, too.
If you'd like a spicier dish, use a toothpick to poke holes in the habanero (or scotch bonnet if you can find one) before adding it to the pot. Left whole, the pepper will add aroma and a bit of spice to the dish, but not much in the way of discernible heat.